Are you looking for the best Control-M alternative available in the market today? You are not alone. With different Control-M alternative products, picking out the best can be tricky. This is why we have created a detailed list of the leading Control-M alternatives to help you select the best.
Before we discuss the best Control-M alternatives out there, let's first define what Control-M is.
Control-M is a BMC software product that simplifies your IT system process by providing workload automation. This helps you seamlessly manage and control your production workflows.
Although Control-M is excellent software, some people love checking out other similar tools to see what they offer. This helps determine whether another tool can best fulfill your specific tasks and is within a certain budget.
Here is our list of the ten best Control-M alternatives:
ActiveBatch Performs terrific tasks such as managing files, automating IT and business processes, file transfer, and data security. It also offers unlimited job scheduling for all your workloads. Plus, it has a demo with a free trial for up to 30 days.
JAMS Scheduler enterprise An automated batch scheduling software that provides integration of data and service management. It also has the scalability feature.
Redwood RunMyJobs A workload software tool that allows reusable automation service. It has all connectors and event-based job scheduling features.
Stonebranch A workload automation tool that runs all cloud services. It has an event-based job scheduling and single management control system.
IBM Workload Automation It has optimized workload management. It also has self-service automation enabling jobs control through your phone.
CA Automic Automation Enables integration with big data and third-party schedulers. Offers other features such as self-service and reusable building blocks.
Tidal Workload Automation Provides the scalability feature that enables you to run multiple jobs seamlessly. In addition, it has the schedule-base, event-base, and dependencies-base features.
Activeeon Offers the report and alert feature to notify you of the job scheduling process. It also provides error-free workflow management and secures all saved data.
AutoSys Provides control and management of workloads on various platforms such as the ERP systems and the cloud.
Ansible Enables installation of multi-tier applications and simplifies IT automation for easy management and control. It also allows workload deployment with ease.
The Best Control-M Alternatives
1. ActiveBatch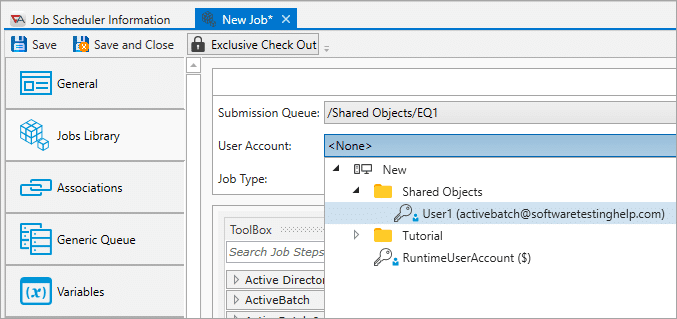 ActiveBatch is a batch scheduler that helps you orchestrate your workload for an effective workflow and customer service delivery. In addition, it offers a central automation hub, giving you a single control system for all the system applications.
The tool has a simple user interface to facilitate quick access to different products and customize your options when need be. Furthermore, the dependency check report and notifications ensure you get all information about your workflow and system performance.
You can use ActiveBatch with any software tool and connect to any server or application to create your job scheduler. In addition, the platform has the REST API Adapter program enabling you to work on separate interfaces and use your applications conveniently.
The integration program helps you create your integrated application and modify it for easy usage in your specific environment.
Key features:
Reporting and monitoring feature that keeps you updated about all the job scheduling.
Reliable workflow.
The Rest API Adapter enables you to work on different interfaces.
Single system control for central management of all your workloads.
A simple user interface program.
Excellent integration of workloads.
ActiveBatch stands out for its execution endpoint feature that connects to any server and application, enabling you to orchestrate your workflows through any software tool.
It offers a free demo for 30 days. After that, you can purchase the product at an estimated cost of $5,000 for a 10-server installation.
The ActiveBatch runs on all servers and supports Windows, Unix, and VMS computers. It can also be installed on iOS and Android mobile phones.
2. JAMS Scheduler Enterprise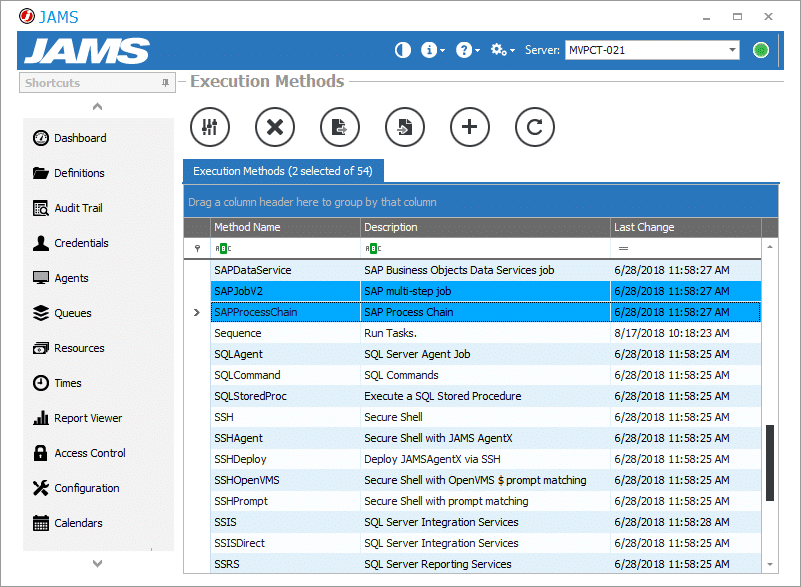 JAMS Scheduler is renowned for simplifying complex IT processes to provide a well-designated workflow. Moreover, it enables you to define and manage your job scheduling from a single control system.
It has predictive alerts to ensure all job risks are reported and all data passed on the servers is secured.
JAMS Scheduler helps you improve your SLAs because it alerts you about missed and overdue tasks.
Key features:
JAMS Scheduler enables you to define, organize, manage and control your workflow.
Automate the complex IT process to be easily manageable by users.
Has a central control unit that improves workflow visibility and reliability.
Predictive alerts ensure you are updated on all the job scheduling activities.
Provide reliable security against job risks and all the servers.
JAMS Scheduler Enterprise is one of the best software for designing, managing, and controlling your workloads through central control management.
The software has a 30-day free demo, and its price starts at $15000 yearly. It can run on Windows, Linux, UNIX, IBM I, zOS, and Open VMS platforms.
3. Redwood RunMyJobs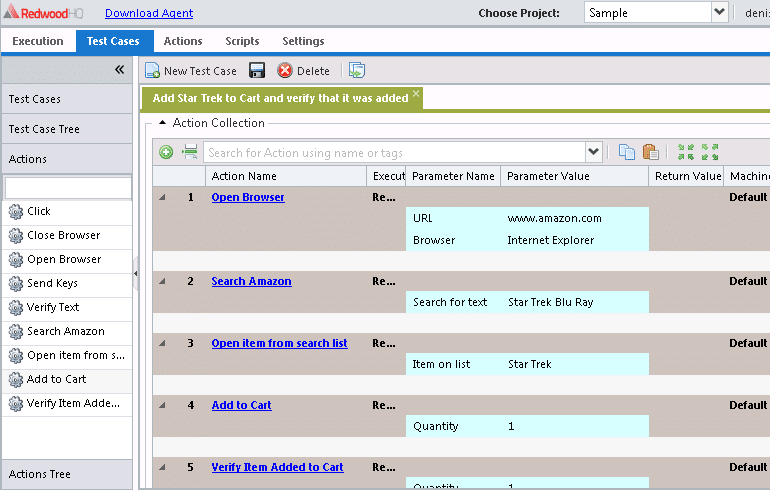 The Redwood RunMyJobs platform has a drag-and-drop UI that makes organizing and transferring your workloads much easier.
The tool has the SOAP and REST features to ensure efficient communication and data transmissions across all web services. Plus, it has a SaaS-based application that helps you avoid performing the same functionality every time you design your workloads.
It has an integrated MFT, secures your data, and avoids risks when transferring data between the host systems.
Redwood RunMyJobs has the SLA alert feature, which notifies you of all the pending jobs on your schedule.
Key features:
The SOAP and REST features enable effective web services.
Through its SaaS-based application, you can set up a reusable automation program.
It has the integrated MFT to secure all your data.
The SLAs alert feature helps you improve the customer delivery services.
It has a drag-and-drop feature that saves you time when organizing workloads.
Redwood is popular especially in companies where adequate data flow and communication are huge priorities.
The tool has a free trial for a maximum of 30 days. Additionally, they offer different products with varied prices, such as the size-based version at $1.85 per employee, consumption-based at $99 monthly, and user-based at $2,100 yearly.
Redwood RunMyJobs supports the Windows, Linux, AIX, HPUX, macOS, OpenVMS, and Solaris systems.
4. Stonebranch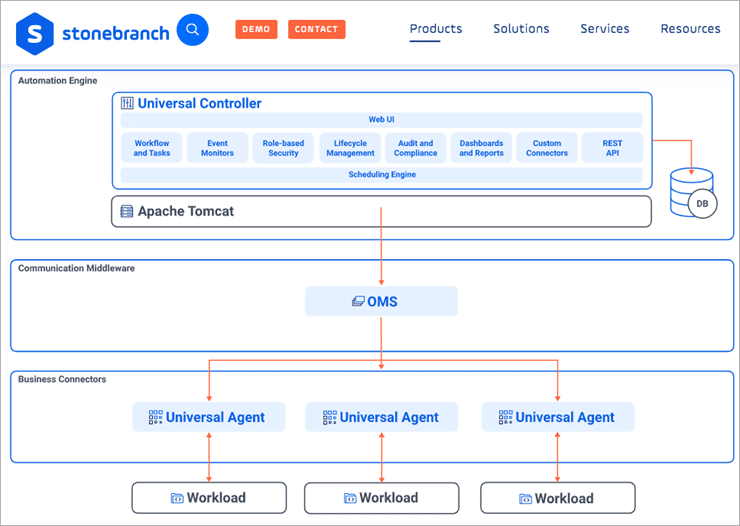 Stonebranch is an enterprise job scheduling software that enables you to centrally create, schedule, and manage the IT process for a better-performing system.
Stonebranch's real-time feature allows you to work on tasks that require urgent attention. Furthermore, you can use the event-based feature to trigger your jobs schedules to help you work concurrently.
It has end-to-end automation, which provides a single control over the private, public, and multi-cloud tasks. In addition, the tool is developed with DevOps orchestration, which helps you automate different workloads simultaneously to ease production and service delivery.
Key features:
Central control helps you to organize and manage your workflow at a single point easily.
The real-time feature ensures you don't miss any scheduled tasks.
It has an end-to-end program that enables you to define a job schedule that runs continuously.
The DevOps orchestration allows you to schedule numerous workloads to be processed together.
It has cloud automation which manages your cloud workloads and services.
Stonebranch is an excellent tool that can help you automate most of your workflow and upgrade your SLAs.
The tool offers a 30-day free trial. However, you can download the buyer's guide on their website to get all the pricing details.
Stonebranch runs on Windows, Linux, AIX, HPUX, macOS, OpenVMS servers.
5. IBM Workload Automation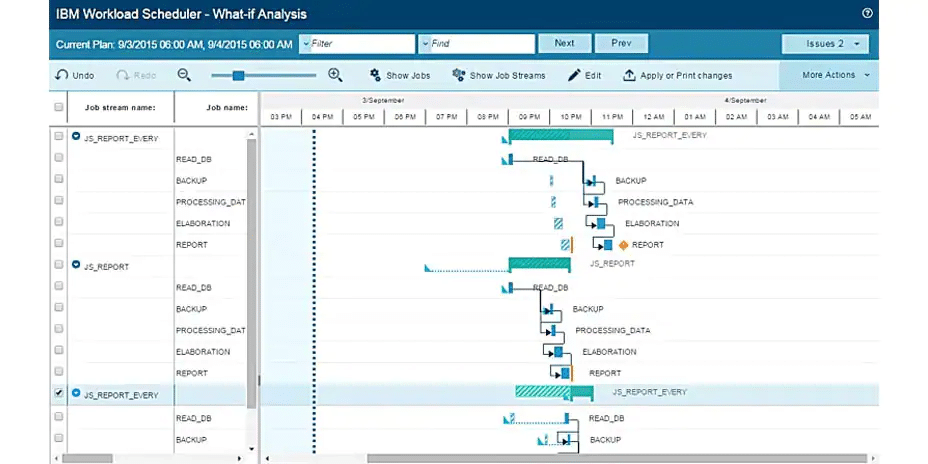 IBM Workload Automation has self-service automation, which enables you to monitor and manage your workflow.
It is supported with the workflow folders feature, which creates the hierarchy folders for your users to manage and stream their jobs. The tool also has hybrid workload automation, which lets you automate workloads in the on-premises and the cloud for deployment.
IBM workload automation has the REST APIs feature to transfer data through the web servers conveniently.
Key features:
Self-service automation allows you to manage your batch scheduling process.
It has workflow folders for easy completion of tasks across all your users.
The hybrid workload automation helps to combine data in the cloud and on-premises.
The REST APIs provide an efficient workflow of data on web servers.
Boosts your business agility and integration.
The IBM workload automation is an excellent tool for easy task management and completion in small and big businesses.
It has a 30-day free trial. You will get its pricing after creating an account. IBM workload automation supports Windows, Linux, UNIX, and Open-VMS platforms.
6. CA Automic Automation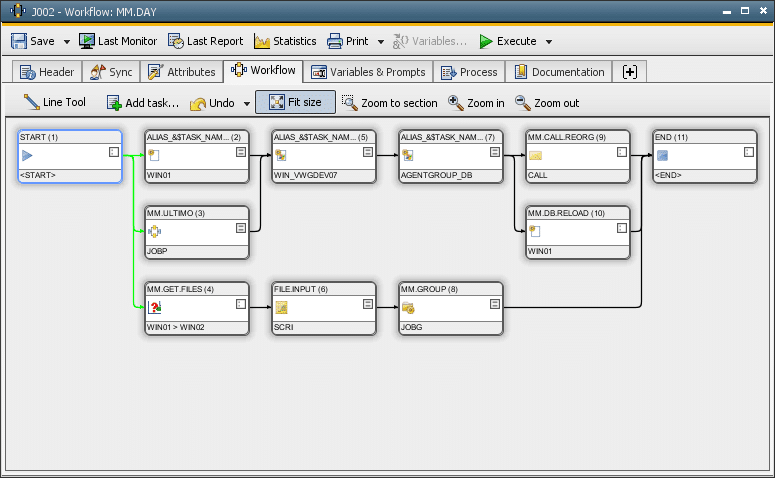 This tool has the SAP Performance workload that monitors the IT performance and notifies you in case of degradation or failures.
You can also use self-service automation to perform different management tasks such as executing file transfers, restart virtual machines, and run batch processes.
CA Automic Automation has oracle automation, which combines with IT operations to build understandable, integrated applications for users.
Key features:
The SAP Automation ensures you monitor your IT performance.
Multi-could automation enables you to store big data safely.
It has business-driven automation allowing you to manage and monitor large files.
Oracle automation simplifies the IT operations to make you understand the operations efficiently.
In addition, it has a self-service feature to enable you to manage and control your task anywhere.
The SAP automation is a great feature that ensures you get alerts on the IT performance; therefore, you can easily control its operations.
It has a 30-day free demo. For pricing, you can visit their website to create a profile and check on your price.
CA Automic Automation supports the Windows, Linux, AIX, HPUX, macOS, OpenVMS operating systems.
7. Tidal Workload Automation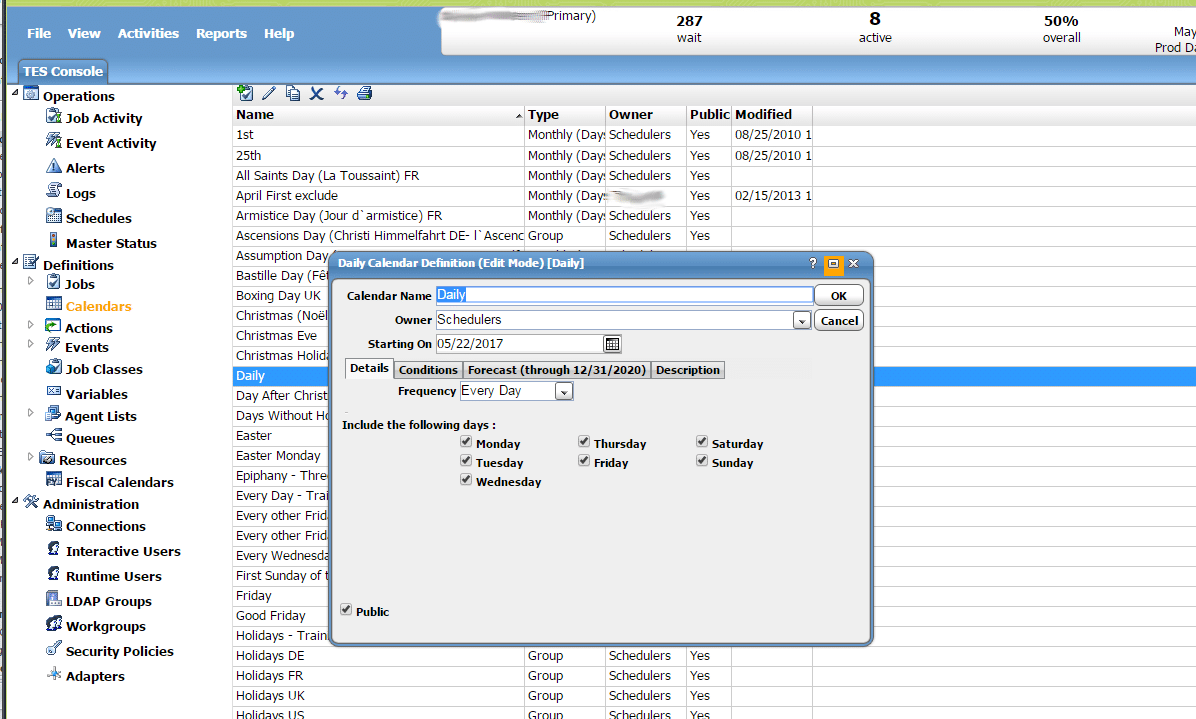 Tidal Workload Automation offers the scalability and resilience feature enabling you to work on huge workloads without performance failures.
The schedule-base, event-base, and dependencies-base allows you to define your workload and adequately organize your workflow to any system application.
Additionally, you can use centralized processes management to control the workflow process. It also offers error recovery to protect you against data loss in case of a system failure.
Key features:
High scalability and resilience enable you to operate on huge files without system breakdown.
It has centralized process management allowing you to check on all system applications at a single point.
It has a job scheduler program to enable you to manage all your batch scheduling.
The error recovery feature ensures all your data is safely stored.
It has the multi-cloud feature for secure storage of all your files.
The platform has the best scalability and resilience automation compared to other Control-M alternatives. This lets you use massive task loads without any system slowdown.
Tidal Workload Automation offers a free assessment, which helps determine the exact price to pay for the service. It supports the Windows, Linux, AIX, HPUX, macOS, OpenVMS operating systems.
8. Activeeon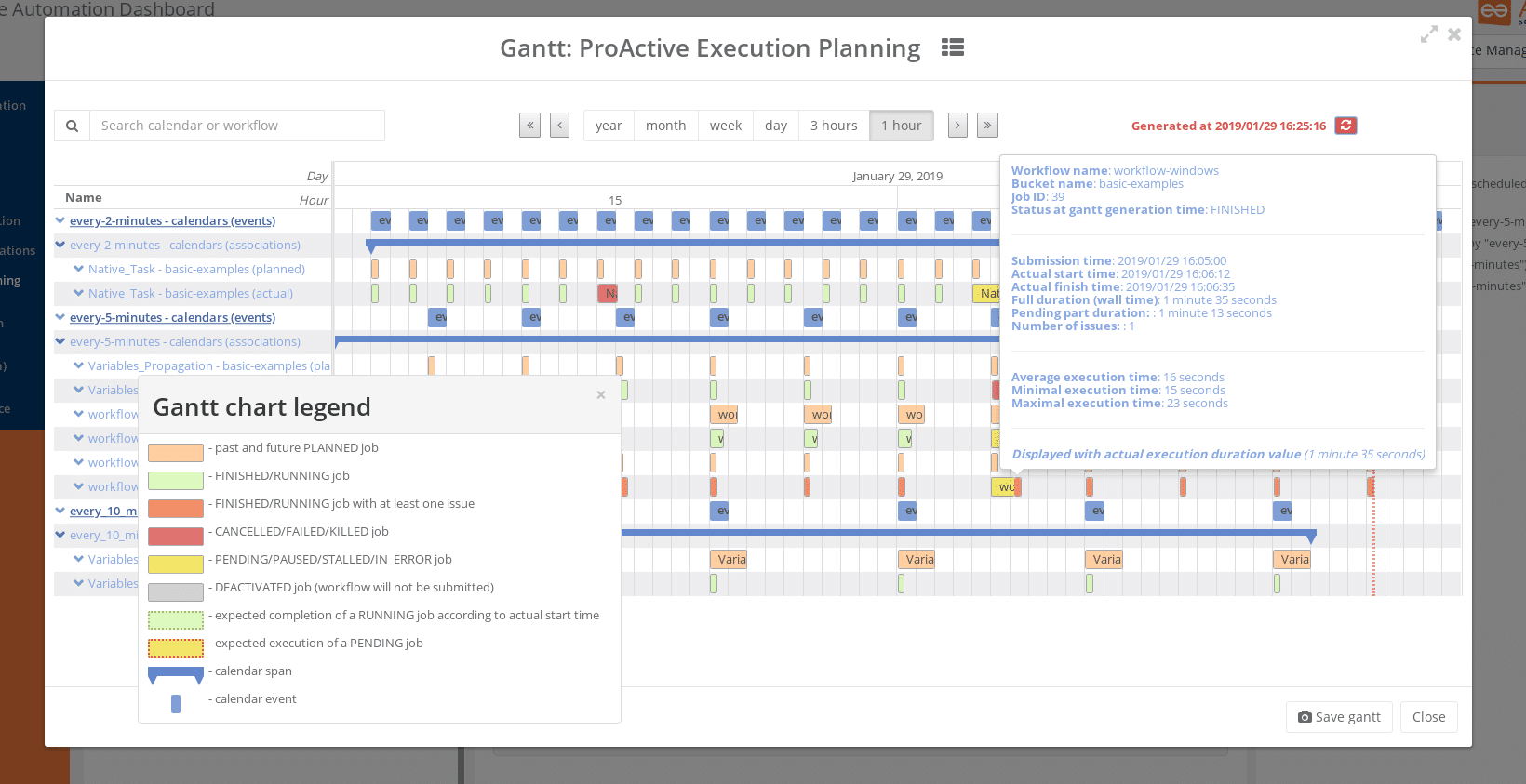 Activeeon is a workload automation software that provides a single point control and management of all the system applications and scheduled jobs.
It has the hybrid and multi-cloud features to help you operate on the on-premises, private and public cloud simultaneously.
Its IT automation simplifies all the system operations by creating repeatable processes to minimize manual intervention. This enables you to work on your scheduled job efficiently.
Moreover, it has excellent acceleration and scalability to help complete scheduled tasks within a short period, and This ensures reliable services to users.
Key features:
Single system management ensures you easily manage all system applications.
It has acceleration and scalability automation, which allows you to work on large files at an incredible speed.
The hybrid and multi-cloud automation enable you to perform tasks on both the cloud and on-premises.
The IT automation creates a system repeatable program, allowing you to operate the applications efficiently.
Job scheduling automation allows you to orchestrate your work.
Activeeon offers different complex and specific ensuring features that help ensure you complete all the tasks with great speed and efficacy.
It offers a free version and a demo for 30 days. Activeeon runs on Windows, Linux, AIX, HPUX, macOS, and OpenVMS operating systems.
9. AutoSys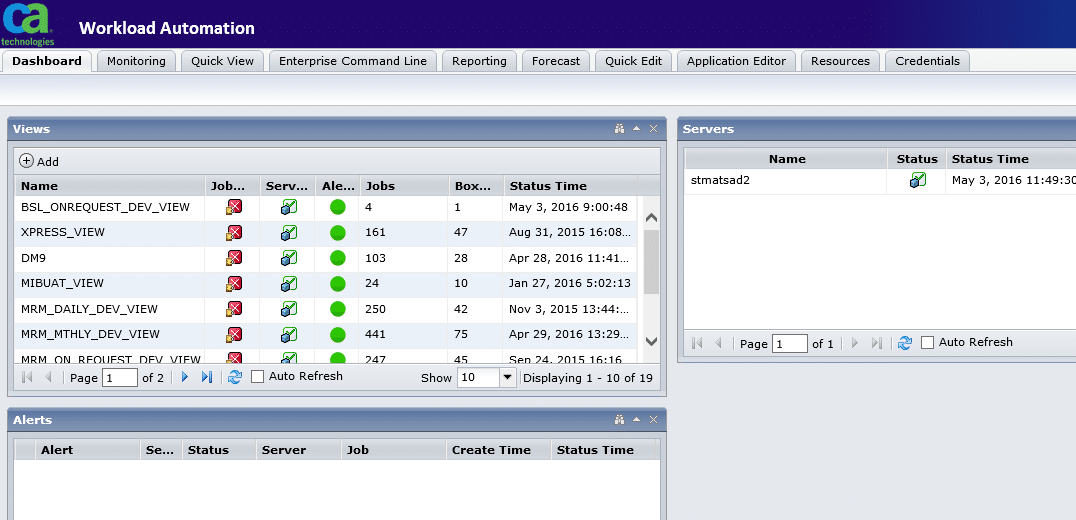 It is a workload automation tool that has the forecasting, report, and automatic actions for behind-schedule jobs. This enables you to develop your SLAs and improve customer service delivery.
You can also manage your task through Hadoop automation, which helps to evenly distribute massive workloads and create a typical pattern that will smoothly run and process your tasks.
AutoSys has the SOAP and REST web services, which provide reliable system communication and effortless transfer of files across the web.
Additionally, it has digital workload automation in the cloud, enabling you to deploy data to on-premises, cloud, or both through the Hybrid feature.
Key features:
Forecasting, reporting, and automatic actions for overdue tasks enable you to improve your SLAs.
It has the SOAP and REST feature for easy flow of data across the web.
The digital workload automation in the cloud allows you to deploy files to the cloud.
It has the Hadoop feature enabling you to run big files by creating a workflow pattern.
The single system management enables you to have visibility and control of all the batch scheduled data.
If you are looking for software that can manage and perform tasks on massive data by uniformly distributing the workload, then AutoSys can do the job.
It does not have a free demo, but you can register to get the total pricing. AutoSys works well on Windows, Linux, AIX, HPUX, macOS, OpenVMS, and Solaris operating systems.
10. Ansible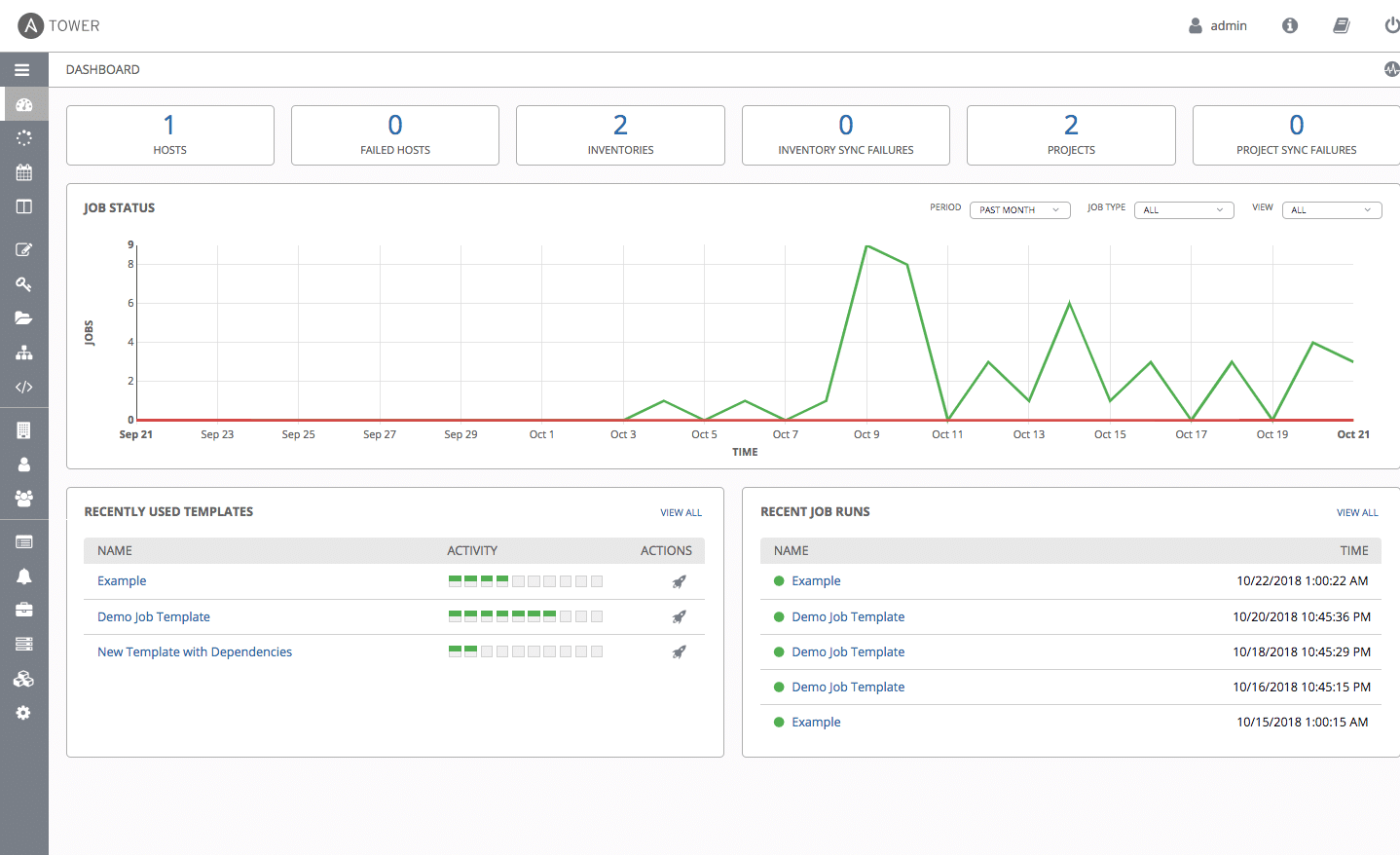 Ansible is workload automation software that is highly ranked for its DevOps automation service provision. It allows you to orchestrate multiple tasks that will run simultaneously, enabling you to complete lots of tasks.
It has the SSH (secure socket shell) that helps you quickly deploy tasks across all the applications in your servers.
Ansible also has security and compliance automation, enabling you to set up or reset passwords across all the desktops through the primary host computer.
Key features:
The DevOps program lets you run multiple tasks at a go.
The SSH automation allows you to deploy workloads across all the applications digitally.
Configuration management helps you control all the functions from a single point.
It has the security and compliance automation to protect your processes and stored data.
Cloud provision automation allows you to deploy and integrate cloud services.
Ansible works perfectly in digitally distributing workloads across all the system applications from the host computer.
It is a free automation tool. Additionally, it offers a free DevOps certification training course. Ansible runs on Windows, Linux, AIX, HPUX, macOS, OpenVMS operating systems.
Conclusion
We have selected the best Control-M alternatives offered in the market today. We have also highlighted their key features, making it easy for you to tell-apart your preferred choice.
However, we recommend you pass through all the products on our list before making your choice. This will save you the trouble of future regrets in case the products don't fit your expectations.