Cisco Live is an annual event for IT professionals to connect with peers, develop solutions, widen skill-sets, lab scenarios, drink beer and celebrate!  Seven years later and I'm still enthralled by the experience and value this event provides for Networking professionals.  Whether your focus is with routing/switching, wireless, security, computing, storage, automation, IoT, you name it, Cisco Live has got you covered.  I've covered Cisco Live a few times in the past, so mostly I'd like to share my Top 10 favorite moments of Cisco Live 2016: Las Vegas.
1. Tweet up
Fellow tweeters kick-off Cisco Live Sunday night by flocking to what has been dubbed "Tom's Corner" for hors d'oeuvres and conversation with like-minded folks active in social media communities. Some may only see each other once a year at an event like Cisco Live, while others may be meeting fellow twitter followers for the first time. Tom's Corner is rightfully named after the great man, Tom Hollingsworth, that started this collaboration of social networking gurus way back at Cisco Live 2011. It's grown significantly since then, matching the growth of Cisco Live as the continued premier conference for networking professionals. #CLUS is where it's at.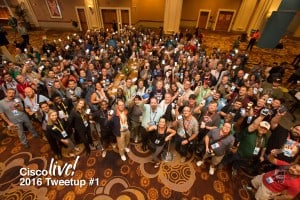 2. DevNet Zone & Cisco's DNA
Network landscapes are changing, driven more by software, less by hardware. It's critical for businesses and engineers alike to adapt, evolving strategies and skill-sets best suited for inevitable futures. "Disrupt or be disrupted," was a warning beacon sent out at last year's Cisco Live event, still resonating this year in crystalized clarity. No need to fret, as Cisco is doing all it can to ensure engineers have numerous paths forward.
The concept of DevNet is simple: Development + Networking. This means moving administrative and operational logic from network devices and command lines into something software-driven. What does this get us? Automation, orchestration, self-awareness, modularity, ease-of-use, the list goes on.  Hands-on labs purpose built for understanding software development concepts and ideologies applicable for networks is what the DevNet zone is all about, open to anyone attending the event. I personally sat through several labs regarding REST APIs, GitHub, Python and IoT (Internet of Things).
Newly announced framework: Cisco's Digital Network Architecture (DNA) is designed for the modern digital network. It covers the trends fueling digital business: Security, Big Data, IoT, Cloud and Mobility. A business desiring to meet and maintain these trends should virtualize everything, design networks for automation, be pervasive with analytics, unify policy and orchestration across networks and clouds, and most importantly adopt open, extensible and programmable technologies at every layer. Cisco DNA is not only a framework, it's a modeled strategy on how to build an architecture for the future. Read more about it here, and check out their Readiness Model that steers you from the manual information era to the self-driving digital era.
 
3. Chuck Robbins Keynote
This was Chuck Robbins' first full Cisco Live keynote as CEO after John Chambers entrusted him with the leadership at last years event. With confidence he captivated the audience, emphasizing Cisco's Digital Network Architecture (DNA) as the roadmap we've all been looking for. He continued to share insight on Cisco's latest acquisitions and their strategy to become more integral in nearly every facet of IT, playing a video of Apple CEO Tim Cook discussing iOS 10's integration with Cisco networks for improved calling experiences. Read more about it here.
A nice morning at the office with a few (thousand) of my friends at Chuck's opening keynote at @CiscoLive #CLUS pic.twitter.com/D1e0xqhHlY

— Steve Maller (@stevemaller) July 11, 2016
4. Technical Seminars
This one is a gimme. Cisco Live is full of the best training you could possibly ask for. My favorite session happened to be Steven Heinsius's "7 ways to fail as a wireless expert" because it was educational, informative, well-paced and exciting. Therefore, a perfect recipe for a solid session.
#PSOCSR2001 – Removing the Wired Bottleneck with #NBASET. Full room:) @BartPeluso3 @CiscoLive pic.twitter.com/8sl21Z5Pn2

— Peter Jones (@petergjones) July 13, 2016
5. Booth crawling the World of Solutions
The World of Solutions is a massive area filled with vendors, solution integrators, Cisco experts, snacks, swag and light-hearted nerd'ing. Crawling the booths at Cisco Live is something I look forward to every year because it's exciting, and most noteworthy, eye opening!
Hey, it's our friends from SolarWinds!!
The team is fired up and ready! Come see us at Booth 1419 and score the best swag at #CLUS! pic.twitter.com/2ME0E90zFH

— SolarWinds (@solarwinds) July 11, 2016
6. (Psst) Whisper Suites
No pictures allowed, no tweeting allowed, do not share this information! A special area within "The Hub" of Cisco Live, the Whisper Suites is where you can entice your mind-belly with tantalizing developments Cisco is working on. Many of these secret projects are on their roadmaps, currently hidden behind the horizon, while other solutions are sandboxes that may never come to light. Hence, you must keep information on the DL.  Ask the right people and maybe you'll get an opportunity to hear a whisper from a think-tank engineer in the suites.
"@GK_bradhaynes: @lauren at the #clus Whisper Suite #CiscoChampion pic.twitter.com/HcpzMwrVTg" <when you & a buddy dress alike

— Lauren M Friedman (@lauren) July 14, 2016
7. Kevin Spacey
Need I say more?
Telling Boston how much I enjoyed sharing my stories with the amazing audience at @CiscoLive #CLUS pic.twitter.com/08m874wfLF

— Kevin Spacey (@KevinSpacey) July 15, 2016
8. Customer Appreciation Event
Cisco throws the absolute best appreciation events for its conference attendees. This year was no different, with Elle King and Maroon 5 rocking the house, and a mesmerizing Cirque du Soleil performance witnessed by 28,000+ blinking-hat-wearing Cisco customers.

9. CCIE / NetVet Reception
A special lunch reception with CEO Chuck Robbins is offered to CCIEs and frequent flyers of Cisco Live events. This is an opportunity for an intimate Q&A session with Cisco leadership. While some people use this chance to recommend changes, others shame Cisco for not already doing what is expected. It's a wild mix of intention, but all in good nature. The NetVet reception continues to be greatly valuable to it's most dedicated partners and customers.  After all, how often do you get to shake hands with industry leaders?
 
10. Tweet down
Alas, we must say goodbye to our fellow colleagues, engineers, passerby's and all that is Cisco Live. Until next time, packet on!