With the perpetual advancement in technology comes a new era of wireless engagements. This boom in technological excellence has emancipated devices that were previously tethered to sockets. Faster wireless technology has ensured more significant access to users present just about anywhere in the world. The breaking of conventional boundaries and allowing devices wireless freedom has introduced new challenges in all aspects of life, particularly business organizations. The challenges are further inflated by the Coronavirus pandemic that presently plagues the world. One of the most significant challenges posed by the wireless era of networking is security. The challenge begs the question: How can businesses ensure their data is secured on devices out of their physical reach—the answer: Mobile Device Management software.
Here is our list of the best Mobile Device Management software:
Kandji – FREE TRIAL This unified endpoint management system covers all Apple devices, including Macs, MacBooks, and iOS mobile devices. This is a cloud-based service.
ManageEngine Mobile Device Manager Α free MDM solution compatible across many devices and operating systems, hence offering maximum coverage.
Miradore Mobile Device Management Α cloud-based, online, and free-of-charge service aimed at small and mid-sized businesses.
Scalefusion Α cloud-based MDM solution only covering smartphones-both iPhone and android.
Jamf Now Αn automated cloud-based MDM service that covers IOS devices.
Soti MobiControl An endpoint mobile device management solution that can monitor up to 170 vendors from a single location.
Cisco Meraki An excellent MDM solution used for the management of laptops and smartphones.
IBM Maas360 An excellent MDM solution capable of supporting Windows, macOS, IOS, androids, and even IoTs.
Why is MDM necessary?
One of the biggest concerns businesses have has been the security of their data. Data is one of the most critical resources of any organization, and its safety shall highly dictate the organization's future. Businesses are willing to go above and beyond to mitigate the systematic risk to their data. Since mobile devices cannot always be confined to office spaces, a new solution had to be developed to monitor the devices remotely. For this purpose, organizations turned to mobile device management software. MDMs eliminates the vulnerability of data by providing security capabilities on connected devices. The security ensures that all data on the device is always secure. MDMs also enable the administration to fence off data from connected devices if they suspect a data breach. Even if a device is lost, MDM servers can locate the device and wipe out all essential data remotely.
Businesses are always looking for the best ways to enhance the efficiency of their employees and increase productivity. MDMs cater to this need by allowing the administration privileges to monitor the connected devices. Admin can also grant authorizations on various levels to different mobiles. The surveillance by the admin ensures that employees are always working towards organizational goals hence improving overall efficiency and reliability. Conveniently, it is also apt for organizations to quickly set up new devices and save time and resources.
Cloud computing is the future of all wireless communication. In cloud computing, all the data of an organization is stored on a server which can be accessed from anywhere in the world given specific authorizations. MDMs allow organizations to help connect devices with the organization's central servers and quickly form an inside network of servers and devices.
The Best MDM Software
Kandji is a cloud-based unified endpoint management system that supervises devices produced by Apple. This means that it can set up, track, and maintain, Macs, MacBooks, iPhones, and iPads.
The service has routines to manage a fleet of company-owned devices and also make business services available to user-owned devices without the risk of data loss. The user-owned devices that are tracked by the systems can be in your offices, in a BYOD scenario, out in the field, or in the homes of home-based workers. Desktops owned by telecommuting employees can also be managed through this system.
As this service is based in the clouds, it isn't limited to managing devices on one site. You can include any device anywhere in your plan, just as long as it can connect to the internet. You can set up an application menu for each employee – this can be implemented by groups – and then that user logs into an account on any machine to get access to that software. The tool enables single sign-on and device switching.
The Kandji package includes patch management for operating systems and authorized apps. The tool manages the installers on its servers, so you don't have to go hunting with software suppliers for updates.
Mobile device tracking features include the ability to lock a device if it is mislaid or completely wipe it if it is stolen. This ensures that company data doesn't fall into the wrong hands.
The subscription service of Kandji is charged for annually but the provider quotes its prices per month. The system offers price points for quantities of devices to be managed and the lowest number of devices offered in a plan is 100. This costs $399 per month.
You can assess Kandji with a 14-day free trial.
2. ManageEngine Mobile Device Manager

ManageEngine Mobile Device Manager is a free MDM solution compatible across many devices and operating systems, hence offering maximum coverage. It is compatible with android, IOS, ChromeOS, macOS, and Windows. In addition to the broad scope, it also provides the choice of an on-premise service or cloud-based service.
One of the critical features of ManageEngine is its customizable dashboard which allows easy and convenient access to all information related to the mobile devices. This aids in monitoring as the admin can view crucial information on the connected devices, including device owner name, installed applications, and access to the data stored on the device. The high level of surveillance ensures transparency between the employer and the employee. Furthermore, ManageEngine provides remote troubleshooting. If there is an issue in a connected device, the admin can resolve the issue remotely in real-time. The admin can also communicate with the end-user using a built-in chat function. The chat function also facilitates issuing security commands to the mobile device. Also, the admin can even control the device remotely if necessary and ensure they have control over the data in the device. Moreover, ManageEngine audit tools can help monitor the network by tracking the number of connected devices. Audit tools also notify the admin if a device leaves the premises of the prescribed boundaries.
However, despite its broad range of functions, ManageEngine has its technical complexities. First of all, The device registration process is very complex and not straightforward. The device registration process drains valuable time that could have been utilized in another activity. Preparing customized reports on ManageEngine requires knowledge of SQL, which furthers it away from the general users and only allows SQL specialists to make custom reports.
The standard and professional edition of ManageEngine is free up to 25 connected devices regardless of On-premise or cloud service. Afterward, the prices depend on the number of connected devices and the service used, whether on-premise or cloud.
3. Miradore Mobile Device Management
Miradore Mobile Device Management is a cloud-based, online, and free-of-charge service aimed at small and mid-sized businesses. It is compatible with all the operating systems, including Android, IOS, macOS, and windows.
One of the critical features of Miradore is its end-to-end encryption and the ability to have complete control over necessary data remotely. Miradore allows the admin to be able to lock the device containing the information remotely. It also allows the admin to wipe out all of the device data if necessary. Furthermore, Miradore can also bypass hardware passwords and also be able to reset them. Miradore has innovative, selective wipe implantation called ' Bring Your Own Device' (BYOD). BYOD allows the admin to wipe out all data related to the organization while keeping all personal data intact. This can be a pretty helpful feature in current times when everyone owns a personal mobile device.
In addition, a map displayed on the dashboard provides admin information regarding the location of all connected devices on the network. From the dashboard, admins can send out notifications to all the connected devices and issue new commands. Also, if a device gets lost, the admin can sound an alarm on it and help trace its location.
Registration with Miradore is easier as compared to ManageEngine. First, all the devices connected with Miradore are sent out an invite to join the network. Afterward, the invited devices are set up with the Miradore client. The configuration allows access to secure email apps, safer wifi connections, and a VPN service. However, the VPN service is only available for IOS only.
However, most of the features mentioned above are only available for premium tier users and not a part of the free package. Furthermore, even though all of these features are available in the base packages of other MDMs, they are locked behind a small paywall in Miradore.
Miradore offers three levels of services. The base package is free and only allows the user access to the security-related tools. The first premium package is the business edition that costs $1 per device. The Second premium package is the Enterprise edition that costs $2 per device. Moreover, Miradore is the cheapest option despite a lack of functionality in the base package.
 4. Scalefusion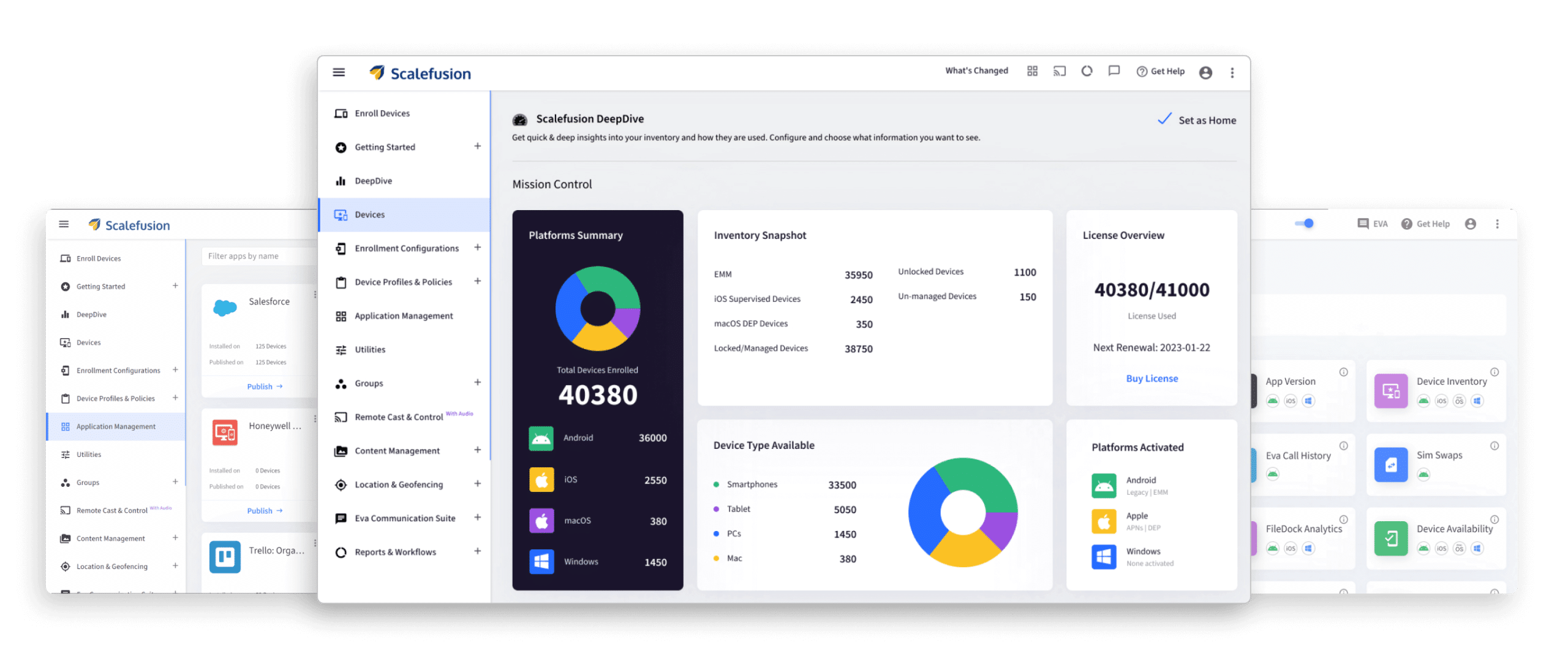 With the rise of smartphones operating on android, there was a huge public concern that androids are relatively less secure than iPhones and blackberries. As a result, there was a substantial public disagreement regarding the use of android phones for business purposes. However, with MDMs like Scalefusion, the administration completely controlled iPhones and android devices in their premises.
Scalefusion is a cloud-based MDM solution only covering smartphones-both iPhone and android. Scalefusion allows users to control the data on IOS and android devices. One of the critical features of Scalefusion is the kiosk mode, which reverts the device display to a custom display and limits access to certain apps and websites. Scalefusion can also limit the functionality of the device's operating system, preventing users from changing specific settings, downloading unauthorized apps, and preventing them from accessing certain websites. Admin also has the authority to push files into the mobile device directly from Scalefusion. In addition, the admin can wipe out all the data on the mobile device; however, unlike Miradore's BYOD, Scalefusion cannot selectively wipe data. Admin can also lock access to data if necessary. The restrictions do not make the connected device obsolete. However, users can still enjoy a list of pre-selected apps and pre-approved websites.
One concern regarding Scalefusion would be that it provides too much control over the data in the mobile device rendering it useless to store personal data.
The starter edition of Scalefusion begins at $2 per device. In comparison, the business and enterprise edition is $3 and $4 per device, respectively.
5. Jamf Now
If you are looking for an MDM solution solely for IOS devices, then JamfNow is great for all your needs. Jamf Now is a cloud-based MDM service that covers IOS devices. Jamf Now is attractive because it is automated. It will automatically notify the admin if unauthorized action occurs on the device, such as jailbreaking or installation of unauthorized applications. Jamf's dashboard provides a list of all connected devices, including installed apps and the device's serial number. Devices that are connected to Jamf can be secured centrally through a password. For an extra layer of security, the admin can also opt for two-factor authentication. In addition, Jamf features a lost mode that will lock the device and notifies the admin of its location. Finally, like all MDMs, Jamf allows users to wipe out all data on a device remotely.
However, one might question its limited coverage in big businesses since big organizations use various devices with different operating systems. Therefore, Jamf might be a tempting option for sole owners or partnerships where there aren't many devices connected to the network.
Jamf has a variety of packages starting at different prices. The lowest is Jamf Now, which starts at $2 per device. Each package has its price per device. However, Jamf is free for the first three devices.
6. Soti MobiControl
Soti MobiControl is an endpoint mobile device management solution that can monitor up to 170 vendors from a single location. Soti MobiControl supports all devices ranging from Windows to macOS to androids. With Soti MobiControl, you can be confident over the security of your most valuable resource, data.
Soti MobiControls provide remote viewing and remote control features. With remote viewing, an admin can monitor the activity on the end-user screen in real-time. The remote control allows the admin to control the end-user device remotely and sort out any issues. It also facilitates communication by providing a chat feature that the admin and end-user can discuss issues.
Soti MobiControl also allows mobile content management by securing data on cloud servers and allowing authorized users to access it. For this purpose, the admin can upload their files to the Soti Hub app and permit relevant users to access it. In this way, sensitive information would stay safe from prying eyes.
Soti MobiControl also allows applications management by allowing admin to restrict access to certain apps and websites. The blacklist ensures that the team does not have access to non-business-related apps that will hinder productivity.
Soti MobiControl does not provide pricing information on its website. Hence, one must request pricing on their website. However, they do offer a 30-day free trial, which is enough to gauge the potential of this MDM solution.
7. Cisco Meraki
CiscoMeraki is an excellent MDM solution used for the management of laptops and smartphones. It can manage an extensive range of devices running different operating systems. However, it cannot manage wifi-connected devices like printers.
Cisco Meraki is a highly secure MDM solution encrypted by AES. A VPN also secures all the communication with Cisco. It has an attractive User interface that communicates all necessary information in one place. It also features a map that displays the locations of all connected devices.
Configuration on Cisco Meraki is relatively easy. The admin can create a group and configure it in bulk, adding new devices to the group as necessary. The admin can also configure individually. Data and apps are delivered through a system called a backpack. The admin uploads a group of files and authorizes different groups and individuals to access it, after which they appear to the end-user.
Like other MDM solutions, Cisco Meraki can lock a device if necessary and wipe out all data on the device. In addition, Cisco can track the mobile data usage on the phone and detect a high use on a stolen device. Afterward, it can be cut off from the network, and all data can be wiped. Cisco Meraki also features BYOD integrations allowing users to safeguard personal information on their corporate endeavors.
Pricing details can be requested from Cisco Meraki's website.
8. IBM Maas360
IBM is a renowned work organization when it comes to cloud-related services. The list of services also includes mobile device management software. IBM Maas360 is an excellent MDM solution capable of supporting Windows, macOS, IOS, androids, and even IoTs. For managing IoTs, Maas360 is one of the most outstanding software that will ensure that all devices are protected and do not cause a security risk. Maas360 can also manage intelligent devices by Google and Amazon. Maas360 can also monitor data usage on connected devices in real-time and push updates from a centralized location.
One of the best features of Maas360 is that it is relatively more secure. In addition to the security policies, Maas360 can detect and eliminate malware on end users' devices. This process ensures no external risk to data stored in devices and data is secured from malware. Furthermore, the extra layer of security prevents the information from being compromised, putting any organization at risk.
The prices for IBM Maas360 start at $4 per device per month. Users can also register on a per user basis which costs $6 per user per month.
Conclusion
In the current world, data is one of the most important resources an organization can own. Organizations must take every step to ensure that their information is safe. With the matrix of wireless connections, it becomes difficult to constantly monitor all devices handling your organization's data. Therefore, Mobile device management software is a great tool to minimize the risk of your data being compromised. All small and large organizations need to pursue MDM plans for the sustainability of the organization.