Data transfer has been a massive concern for many big and small businesses worldwide. Many business owners usually need an efficient way to quickly transfer huge files and synchronize them with different users in the company. There are endless services that can help you achieve that, but most are insecure. Plus, the process of finding a good one is also time-consuming and exhausting.
Here is our list of the Best Managed File Transfer services:
ActiveBatch Great option that offers different integration and workflow tools. This makes it excellent for businesses that want to streamline their file and work-sharing operations. Also, if you love cloud-based services, then ActiveBatch could be a great fit.
Redwood Offers secure transfers and enables you to control your data accurately.
Files.com Provides secure storage and allows you to send huge files easily. It also enables you to arrange your files properly.
Globalscape Great tool for complicated transfers of important files, but you can also use it to perform simple daily tasks.
Pro2col Offers excellent reliability and performance by granting you access to different analytics and exceptional security.
Cleo A cloud-based integration platform that offers end-to-end visibility across EDI and API integration.
Accellion It offers different secure file transfer options and can even be accessed via a private cloud.
Using FTP is among the different solutions you can try today, but it can't completely fulfill all your business needs, making it crucial to find a more effective service. Fortunately, MFT services have proved to offer everything a business would need to run seamlessly, especially when it comes to data transfer and guaranteed security. Today's post will show you the best MFT / managed file transfer services you can check out today.
What MFT Is and Why You Need It
MFT software is designed chiefly to quickly enable FTP servers to send and receive files via transfer protocol best practices. If you are reading this, you have probably used FTP before. Its system is user-friendly and straightforward but not secure enough to be trusted with sensitive data. Plus, it also has other limitations that make it a less favorable option for data transfers.
Using MFT software lets you secure your FTP data transfers to prevent them from being easily hijacked by cybercriminals. Therefore, if you have been looking for a system that can facilitate secure data transfers between different systems, then MFT services are your best bet.
Below are some of the main reasons why you need MFT in your business:
Growth of data Sharing huge files, especially in bulk, is usually challenging for many people. MFT software creates a direct pathway to facilitate electronic data exchange between different devices in the same or other systems. Also, MFT does not limit data transfers to one locality, making it easier for businesses to engage in beneficial global activities.
Preserve data safety MFT provides secure data transfers and also lets you monitor and store confidential information. This makes it excellent for transferring sensitive data such as patient or employee information, credit card details, and more. The enhanced security also minimizes the chances of your data getting lost during the transfer.
Compliance with security Any business must meet specific regulations regarding its data and relation with personal, legislative, and financial involvements in its particular industry. MFT services offer reliable transmission, monitoring, encryption, and different data types to help meet most security directives. Doing so reduces the likelihood of experiencing any security mishaps.
Keep up with the trends Any business whose goal is to reach as many people as possible should use the most relevant and efficient technologies. MFT software lets you use it on different platforms and devices, including your tablet and phone.
Visual aspect Most MFT services provide a dashboard where you can easily view the entire transfer and storage details. This enables you to analyze the data and try spotting any potential risks that can be avoided.
The Best Managed File Transfer Services
1. ActiveBatch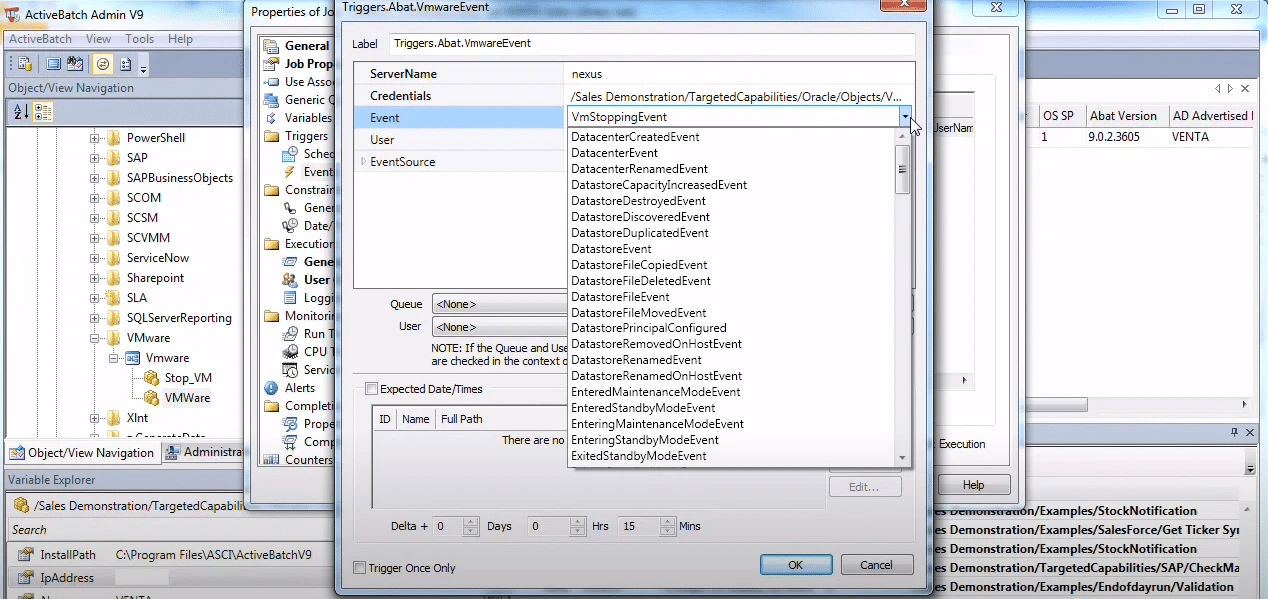 ActiveBatch is among the best software to invest in, especially for creating and monitoring end-to-end workflows. It provides endless production-ready actions like CopyFile, MoveFile, and many more. Doing so eliminates the need to script and makes your IT staff waste valuable time doing manual work that could have been well spent doing more critical tasks.
The service lets you perform simple data transfers and even allows you to view the bigger picture. In addition, the "Jobs Library" feature facilitates creating and automating end-to-end workflows, thus enhancing electronic data transfer speed and efficiency.
ActiveBatch ensures reliable data exchange through analytics scheduling, powerful machine learning, alerting, and auditing capabilities. In addition, the software provides FTPS for SSL transfers, SFTP for SSH transfers, and Web tunneling to ensure tight security. It also offers support for Open PGP to help comply with the set standards (DSS, PCI, HIPAA) and guarantee data security during transfers.
Key Features
Provides maximum support for Secure File Transfer Protocols. It also ensures that the transfer follows all the regulatory compliance standards
Has built-in checks to ensure your data transfers are successful
Has complex parallel transfer capabilities
Provides an advanced trigger suite for large files or sensitive information
Restarts a file transfer if it detects an error
Let's define a task as a template
The ActiveBatch platform usually allows you to execute MFT workflows in the cloud, on-premise, SaaS solutions, and different operating systems such as Windows, Unix, Linux, and Mac. The same number of servers needed determines its exact price. However, there is a free demo that you can use to test its potential.
2. Redwood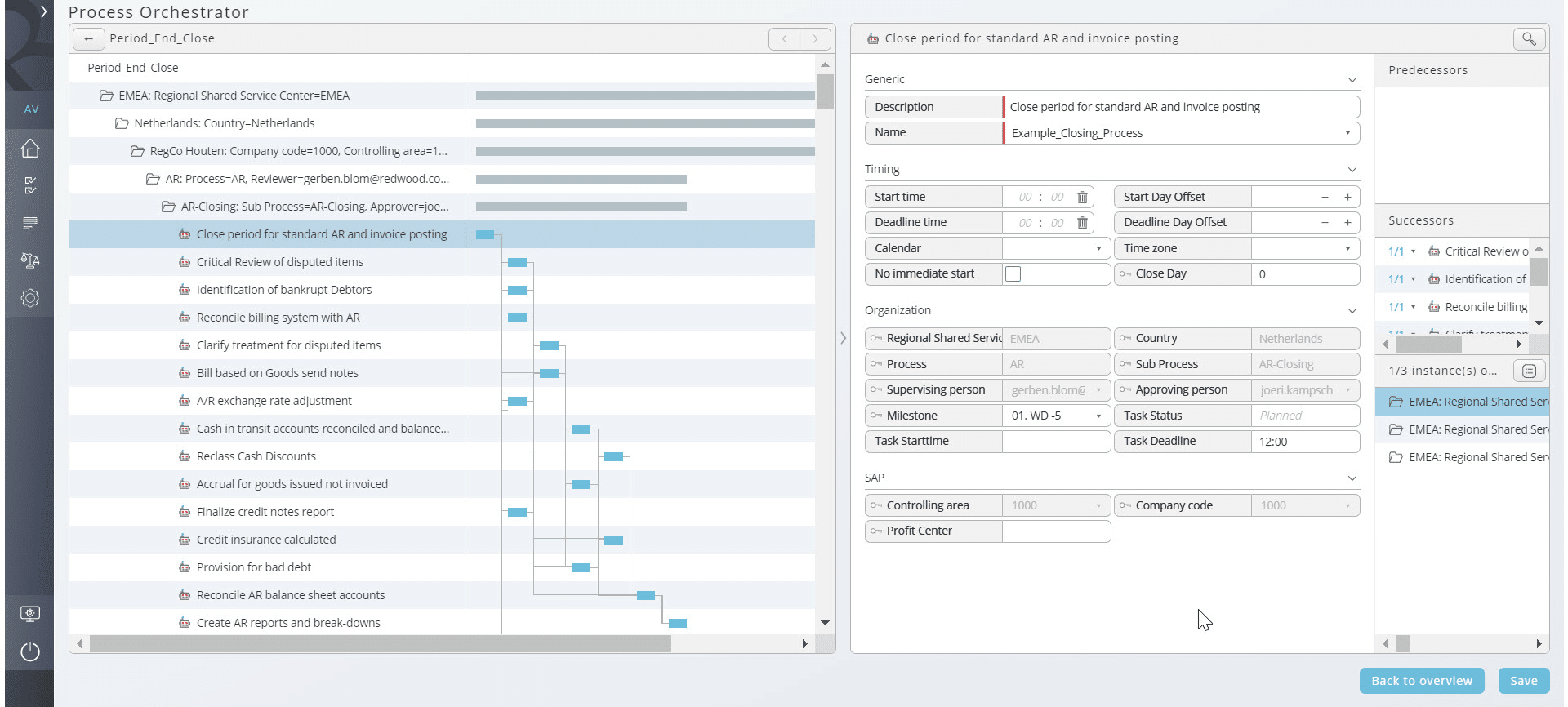 Redwood is a unique data management tool mainly used to keep a business fully connected and responsive. Proper control of data and secure file transfers are some of the things that make this platform stand out. In addition, redwood allows you to quickly scan remote and local directories for new changes and automatically delete them.
Also, if you have used complicated Managed File Transfer services before that often left you confused, then Redwood is what you need. This tool provides a user-friendly interface that enables you to monitor all data transfers and any other activity easily.
Redwood minimizes the time between data transfers and other activities, helping you complete your operations faster.
Key Features
Supports most data architectures
Provides a quick and detailed report on outcomes
Automates data transfers between on-premises mainframe, distributed, and hybrid cloud
Its scheduling feature lets you automate your data transfers from a single and secure control point
A straightforward graphical interface
An automatic restart feature in case issues emerge
Redwood is usually deployed as SaaS and provides rapid data flow. You can use the platform to boost service alignment by incorporating file transfers into existing business processes. It supports Windows, Solaris, OpenVMS, macOS, AIX, HPUX, and Linux operating systems. You can visit the website to get a quote.
3. Files.com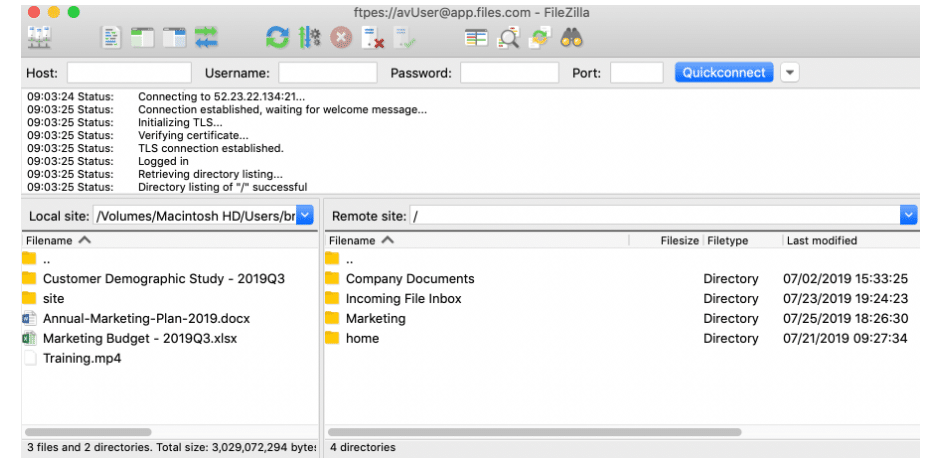 Files.com has been one of the main go-to options for many people when transferring large files. The platform allows you to systematically organize your data by providing sections such as file requests and file inboxes. Files.com provides the recipient with a secure link to access the sent files. Recipients can easily connect to the platform and access the uploaded files using standard SFTP, WebDAV, or FTP servers.
The tool provides all users with different accounts to make activity tracking more seamless. If you are the administrator, you can easily access all the performance-related and activity data. It also offers full encryptions and two-factor authentication to ensure more security.
Files.com allows you to decide how much access to give to anyone with the sent link. Plus, you can revoke the access at any time. In addition, every activity on the platform is logged, and you can also use the space to perform processes such as backing up and syncing directories with sensitive data.
This MFT/managed file transfer service also integrates other on-premise storage or cloud-based providers such as Dropbox, Azure Blob Storage, Amazon S3, Wasabi, and Google Cloud Storage. Doing so enables you to quickly build workflows that can work seamlessly across your preferred systems.
Key Features
Compatible with most devices and is user-friendly
Offers secure syncing and mounting to simplify data storage
Connects with most apps
Fast uploads and a safe download link
Great for sending large files (up to 5TB)
Files.com is a cloud-based service that offers the flexibility, reliability, and security many businesses need today. The number of user accounts determines the price, but you can create an account to get a 7-day free trial.
4. Globalscape

Globalscape is another standard and pretty reliable MFT/managed file transfer tool that performs simple daily tasks. Although Globalscape is enhanced, it still offers a simple user interface to ensure proper comprehensiveness and performance.
The service ensures security and compliance by providing fantastic tools for collaboration, analysis, and automation of processes. EFT Express and EFT Enterprise are the two available on-premise solutions on the platform. EFT Express offers military-proven security, automated data exchanges, and infrastructure stability for simple operations. On the other hand, EFT Enterprise is the best for fulfilling complicated and mission-critical data transfer requirements, making it great for most organizations.
Key Features
Provides complete visibility and access to auditing and reporting
Automates workflows and lets you monitor all your folders
Offers consistent data encryption, even while on the move, to ensure secure data transfers
Offers a two-factor authentication
Globalscape is a standard tool in enterprise spaces where document management and security are a huge priority. The price is about $875. The tool can be deployed on-premises or in the cloud.
5. Pro2col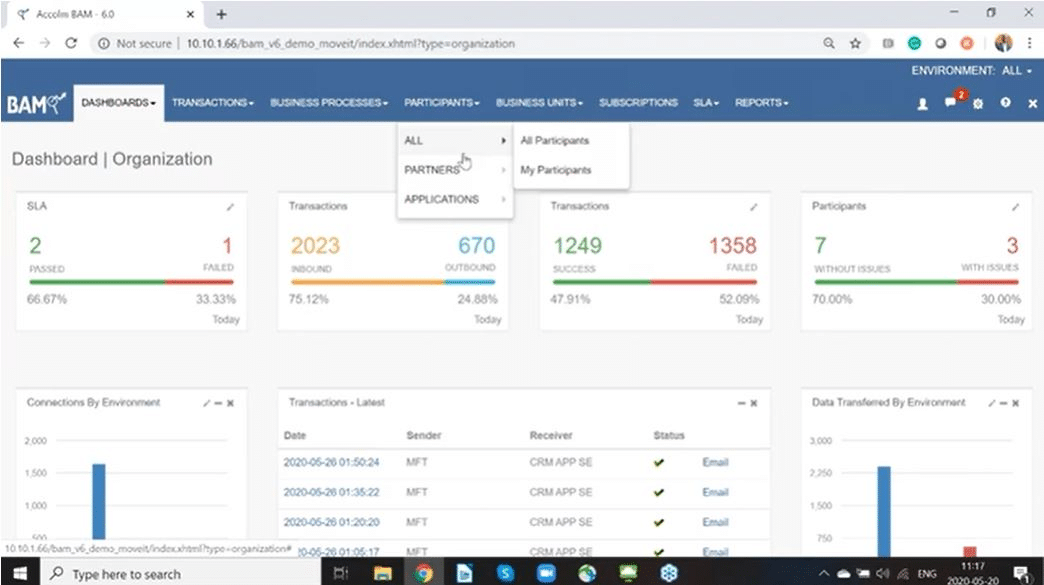 Recent innovations and predictable fixed costs are among the things that make this MFT software popular. For Managed File transfer, Pro2col offers these four solutions:
Cloud MFT
Analytics
Email
Secure file sharing
The tool also guarantees an uptime of 99.99%, enabling it to provide military-grade cloud hosting. Additionally, Pro2col offers unique features to ensure maximum efficiency and reliability.
Key Features
Provides pretty beneficial features such as tight security, self-service abilities, monitoring of different MFT platforms, and a self-service portal
Offers Managed File Transfer Analytics to help monitor the status of the transferred files
It lets you automate file transfers and reporting
Pro2col has about 15 years of experience, which they prove by offering very reliable and secure managed file transfer services. Plus, it can be used by both small and big companies. The cost is determined mainly by your business size and the specific requirements. However, you can get the tool for about £3000 ($4132.88). The platform is web-based.
6. Cleo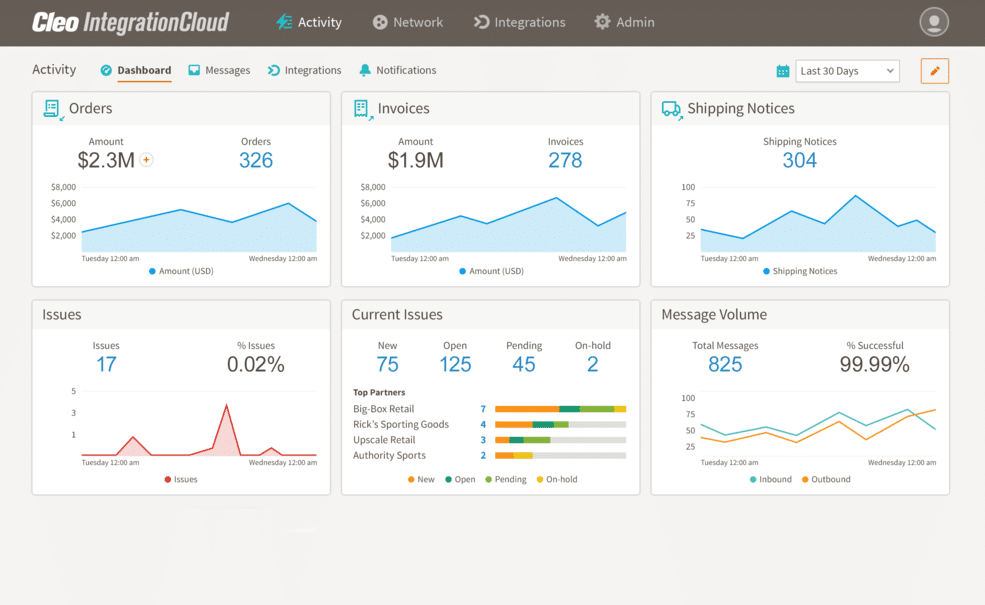 Cleo's instinctive self-service framework provides the best environment for business continuity, data analytics, and compliance in today's world. It has also been noted to perform excellently when it comes to deploying self-made integrations.
The tool is also good in multi-enterprise transfers, enabling multiple connections or file transfers in the same systems. Cleo offers about 900 pre-built business connections and over 20 protocols. Therefore, it can quickly meet all your file transfer requirements even when dealing with different trading partners.
Cleo also introduces end-to-end visibility in API and EDI integrations. This enables you to accurately and rapidly run file transfers. In addition, the platform allows you to allow self-service or Cleo Integration cloud to help manage your services using automation tools. However, you can also implement a mixture of self-service and automation approaches to boost flexibility and control in your strategies.
The service uses HTTP, HTTPS, FTPS, FTP protocols, and email secure file transfer. Also, Cleo lets you create persona-based dashboards to help provide operational and technical details to users more quickly. Doing so enables users to view all their activities efficiently.
Its unique features make managing changes like endpoint modification, certificate updates, and map tweaks easier. In addition, this helps you access real-life metrics that can provide valuable insights into the rejected transactions.
Key Features
Provides different connectivity options
Supports over 20 excellent protocols
Supports modern DevOps deployment
Offers fast file transfers (up to 3TB per hour)
Includes reporting, audit trails, and viewability dashboards
Cleo is a cloud-based platform. It does not offer a free trial, but you can request a demo on their official website.
7. Accellion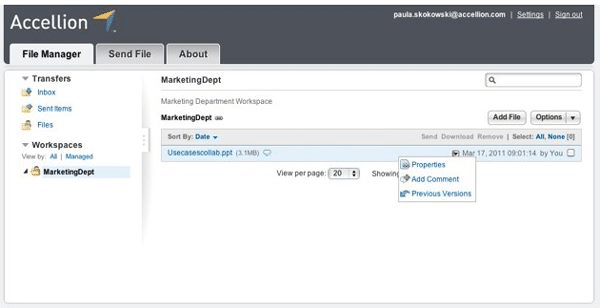 Accellion is another popular tool that stands out when it comes to transferring large files. This platform has a user-friendly graphical dashboard to allow you to view, manage, and monitor your file transfers easily. It enables you to trigger data transfers using scheduling, events, polling, or manually starting them. The high-level view of the system also lets you control file access. Plus, the tool supports vault-to-vault transfers to ensure tighter end-to-end security.
You can use the SIEM or CISCO dashboard to run reports on threats, transfers locations, and total access through a normalized Syslog.
The platform's secure MFT solutions comply with some of the most significant regulations, such as FedRAMP and HIPAA. Accellion also allows you to consolidate third-party communications and storage across your web forms, file transfers, and emails by routing them via its enterprise content firewall. Doing so ensures top security for sensitive data transfers.
Enterprise file transfer workflows need security tools and extensive logical controls. For this, Accellion lets you automate secure file transfer software workflows. Plus, it provides agents to help complete the complicated tasks at scale. And you can do all that without any coding experience.
Key Features
Its automation servers enable you to access data in folders, file shares, cloud shares, and repositories
Offers end-to-end visibility
It has a web-based UI to help you manage, monitor, and recover your file transfers
Granular policy controls to prevent violating any compliances
Let's schedule file transfers or start them manually
Accellion is an excellent cloud platform for securing large-scale file transfers and onboarding, new trading partners. This MFT/managed file transfer tool offers two pricing plans to choose from, a Business ($15 per month) and an Enterprise plan, which you need to get a quote. You can get a free trial for the Business plan to see what it offers.
Conclusion
Transferring files has become a significant part of most businesses in today's world. But, for seamless file transfers, you need a reliable MFT / managed file transfer platform that can send crucial data without it landing into the wrong hands. Fortunately, we researched and found 7 of the best-Managed File Transfer tools you can trust with your sensitive data transfers. So, check them out to see which one best fits your specific needs.
Remember to compare the different features and plans each service offers. Doing so will let you see what every tool offers in detail, including its pros and cons. That way, you can see which ones have cons that could potentially slow progress in your business. You will also see the tool you can quickly pay for while remaining in your budget. Furthermore, you can always ask any crucial questions to the companies you're interested in to see if they are worth the investment.