If you are here, you have probably wondered what batch scheduling software is or looking for ways to automate some processes in your company. Either way, you have come to the right place.
Batch scheduling has become a significant part of most businesses today as it is highly effective in cost reduction, fast processing of many transactions, and 24-7 job management. This makes batch scheduling software a considerable asset in most companies nowadays. Today's article will show you some of the best batch scheduling software that you can invest in without any regrets.
Here is our list of the best batch scheduling software:
Atera – FREE TRIAL A SaaS platform of tools for managed service providers. A multifunctional patch manager and batch launcher in the technician dashboard provides an option to run scripts on a schedule. Access the 30-day free trial.
ManageEngine RMM Central – FREE TRIAL Combines health and performance management tools for automated and manual troubleshooting across networks. Get the 30-day free trial.
ActiveBatch An excellent and unique tool that offers reliable task execution automation using a batch file assembler. It also provides a simple platform that helps manage all your processes and servers in the cloud and on-site.
Redwood A cloud-based interface that offers editable workflow templates and other capabilities that significantly minimize manual intervention.
Activeeon A unique cloud-based platform that can be used on most systems to automate processing workflows.
BMC Control-M An excellent job scheduler for performing unattended maintenance tasks and managing DevOps pipelines.
ConnectWise Automate A cloud-based remote monitoring platform for goal tracking and task allocation. It also offers scripts for implementing maintenance tasks on different client systems.
JAMS Scheduler A renowned scheduling platform that enables services and apps to be properly linked together to perform specified processes.
Ansible A unique product that mainly performs security data gathering tasks around networks.
Before jumping into the tools, let's first discuss batch scheduling and some of its primary benefits.
So, What Is Batch Scheduling Software?
Batch scheduling has been around for a while now as it was commonly used years ago in mainframes to handle plenty of data. Today, batch scheduling software helps prevent IT professionals from spending valuable time taking simple tasks instead of focusing more on complex ones.
Using batch scheduling tools also boosts the user experience of many applications. This software allows you to automate any IT processes in various processing windows called batch windows. Doing so facilitates seamless workflows. Most companies activate their batch scheduling software at night to prevent interrupting the smooth workload during the daytime.
 Why Do You Need Batch Scheduling Software?
Batch scheduling software offers many unique benefits. Below are among the best benefits of investing in this software:
Saves time and money As aforementioned, using batch scheduling software helps handle many tasks that IT staff could have otherwise handled. This software runs overnight and works on all the instructed automated processes. It also performs secure data transfers to ensure the IT infrastructure is running correctly. While the software is doing all this, your IT staff could do more vital tasks, enabling your company to finish huge workloads in a shorter timeframe. By handling more work faster, your company is also likely to grow exponentially.
Boosts reliability Batch scheduling software allows you to create a framework that produces excellent processes and provides reliable infrastructure. In addition, using it makes it easier for IT staff to analyze different reports and quickly spot errors. This way, those errors can be immediately eliminated before causing any issues to the workflow, so batch scheduling saves you lots of time and guarantees efficiency.
Opens up different possibilities Batch scheduling software provides reliable solutions to various problems (both complex and simple). So, it helps create a workflow that ensures all the critical data is appropriately managed and monitored. It also handles mandatory aspects such as data backup, archiving, and auditing, thus reducing the need for one person to watch over different elements of your business.
Provides stable results Most batch scheduling software also provides constant integration in the background to prevent interrupting real-time workflow usage on any devices or department. The software offers long-lasting solutions that can reliably provide excellent customer support, allowing you to ensure customer satisfaction. Using batch scheduling software also provides simple integration and scheduling, enabling you to manage most processes under one roof.
 The Best Batch Scheduling Tools
Atera is a package of tools for managed service providers (MSPs) that is delivered from the cloud. This SaaS package offers all of the systems that technicians need to support the systems of client companies in a division of tools that is called remote monitoring and management (RMM).
Within the RMM system, Atera has provided an automation scheduler that can operate as a patch manager for Windows and macOS. The service is also able to manage the installation or updating of software packages on client endpoints.
The automation scheduler offers a list of standard actions to run on a cycle, such as clearing out temporary files or creating a system restore point. The real power of this service is that it allows you to write an automation script and then set up a scheduler profile for it. With this, you can run any task out of office hours and then check the logs the next morning for completion statuses.
The Atera system offers each account an option to set up subaccounts. So, you would create a separate subaccount for each client. This provides a matrix permissions structure because you allocate each technician an account for the system and then allocate accounts to a client space. This means that your team can be segmented to allow access only to a limited number of workers, making access and accountability easier to control.
You can set up an admin account for each client subaccount, which would be where you would set up the automation scheduler.
Key Features:
Maintenance windows
Repetitive execution
A separate automation scheduler for each client account
Standard activities
Launch custom scripts
Patching for Windows and macOS
Installs or updates software packages
The automation scheduler isn't the only tool in the RMM service. You also get a full technician dashboard for work management and remote access. There are remote monitoring systems for networks and servers included in the plan as well. The monitoring tools include performance thresholds that will trigger alerts if crossed.
Atera offers three pricing plans that you can choose from. They include:
Pro $99 monthly per technician, billed annually.
Growth $129 monthly per technician (free trial), billed annually.
Power $169 monthly per technician, billed annually.
The Atera package also offers a bundle of professional services automation (PSA) tools. These are all of the systems that an MSP's management needs to run the business and includes a ticketing system. You can try out the Atera platform with a 30-day free trial.
ManageEngine RMM Central is a popular alternative to Nagios, offering patching, remote management, and network monitoring features. The platform is ideal for those who have outgrown Nagios or are looking for a more effective alternative.
Key Features:
Automated asset collection
Multi-tenant grouping
Quick deployment and lightweight agents
RMM Central offers automated asset collection, management, and remediation, which is useful for administrators who write their own scripts. It collects device metrics such as memory usage, disk space, and patch status for reporting and alerts.
On the network side, administrators can monitor internal network conditions and bandwidth usage and manage multiple outgoing interfaces for larger networks. While RMM Central can be used in any size network, it is particularly useful for MSPs and medium to large-scale networks.
Pros:
Focuses heavily on automation, reducing workload for teams
Supports multiple network environments (local, hybrid, cloud, etc.)
Offers a variety of templates to get started quickly
Cons:
Better suited for medium to large-size networks
You can try out the ManageEngine RMM Central platform with a 30-day free trial.
3. ActiveBatch
If you had tried to research batch scheduling tools before landing here, then you likely came across ActiveBatch. This platform is renowned for its high performance, reliability, and outstanding efficiency.
It is an enterprise batch scheduling and workload automation tool. ActiveBatch is usually pretty effective in transferring data securely, managing dependencies, and performing automated batch processes. When working with heterogeneous frameworks, the platform allows you to create cross-platform workflows to help accommodate and collect any data. The Job Steps feature in the tool lets you develop excellent workflows without using any script. Doing so allows your employees to perform different operations more accurately and efficiently.
Custom calendars and granular date/time scheduling for different time zones also ensures reports and all data are delivered on time. Also, ActiveBatch helps minimize incomplete jobs by offering other event triggers that support real-time processing plus practical constraints.
This cross-platform tool is uniquely designed to support end-to-end processes. The batch processes automated on the platform can efficiently manage dependencies and data across different systems and applications. Additionally, you can use the Super REST API Adapter to integrate any application virtually.
Key Features:
Provides interval-based scheduling plus custom alerts.
Lets you easily integrate any app with an API.
Offers Machine Resource Optimization to ensure more scalability of machine resources.
Provides detailed analytic reports on role-based views.
Has a Machine Load View with refined performance graphs and visual heat maps to indicate the level of availability and usage of systems.
ActiveBatch is an excellent tool, especially if you want to automate processes across different company technologies easily. It is also user-friendly and feature-rich, making it a worthy investment.
You can get a demo of ActiveBatch and try it out for free for 30 days or get a quote for the specific service you want. The price is mainly determined by the number of scheduling environments and servers you need. You can use this batch scheduling tool on AS/400, Windows, Mac, Unix, Linux operating systems, or even the web.
4. Redwood RunMyJobs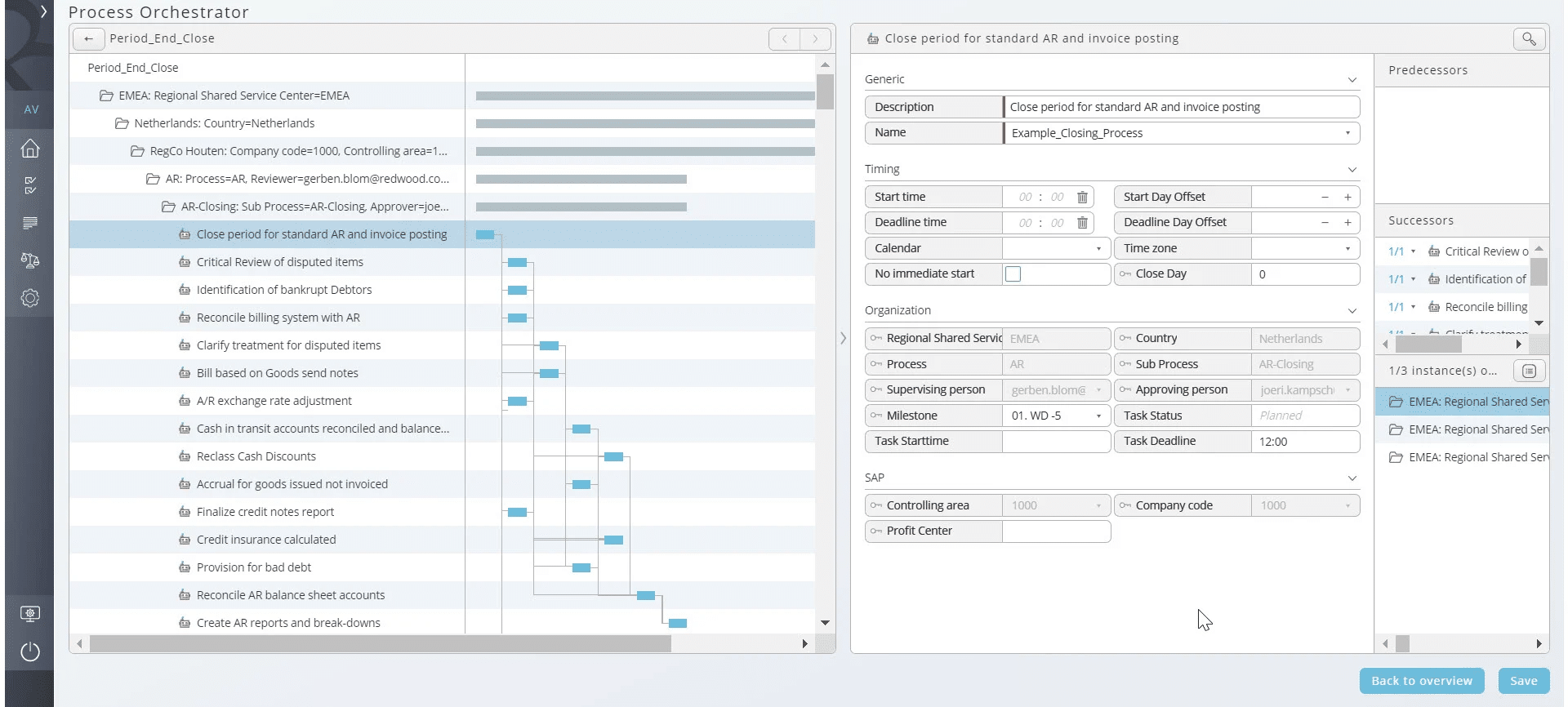 Redwood RunMyJobs is another popular SaaS-based platform commonly used for finance automation, workload automation, and batch processing. The tool provides low-code wizards and reusable automation. Plus, it offers unique templates for automating your processes. This helps save plenty of time since you don't have to create a template for every project. You can also use the drag and drop feature to assemble your workflows, thus finishing the job faster.
This batch scheduling platform has excellent features for performing manual tasks more effectively. Redwood RunMyJobs also has branching paths usually repeat or skip some steps to help self-recover from an error made along the way. Processes mostly start depending on the set schedules or automatically react to real-time events such as file uploads.
Key Features:
Tracks execution location while carefully noting the holidays and local working hours to prevent performing batch jobs during working hours.
Alerts you if batch steps fail.
Records termination statuses and execution performance metrics.
Live progress monitoring.
SLA tracking.
Redwood RunMyJobs is usually a perfect pick for companies looking for a batch scheduling tool with tight security features and a fully hosted infrastructure. You can visit the website for a quote for the exact pricing details or request a free trial. The tool is web-based.
5. Activeeon
If you primarily work on multi-cloud or hybrid environments, then Activeeon can be an excellent batch scheduling and workload automation tool for you. Activeeon provides different reliable features for efficient data migration and synchronization. Plus, it optimizes the utilization of your available resources. So, using this tool can help to optimize resource consumption and scale in no time effectively.
Activeeon also provides a simple workflow interface enabling you to access all your projects in one space easily. Plus, it offers connectors for familiar data sources such as PostgreSQL and MySQL.
Key Features:
It offers a myriad of dynamic resources and excellent scalability.
It lets you integrate it with pre-existing data sources.
Provides a user-friendly workflow interface.
It allows you quickly monitor the execution and resourcefulness of resources.
Provides high-performance efficiency.
This open-source tool is excellent for improving user adoption and maintaining proper control over the automation process. You can connect it to most resources and integrate it within any environment.
You can use its free trial to test its abilities or contact the website for a quote. The platform is web-based and can also be used on Windows and Mac operating systems.
6. BMC Control-M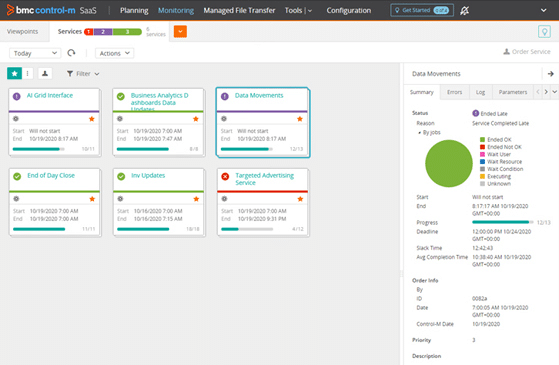 Control-M by BMC was created with the efficient automation of data workflows in mind. This unique tool helps perform effective workload automation and job scheduling. It provides handy functions such as integrating, arranging and automating application workflows. In addition, its self-service extensions allow you to perform batch scheduling even on your smartphone, enabling you to still monitor operations while on the move.
The platform is easy to use and can be used on any business. However, it has been noted to perform better in medium-sized ones.
Key Features:
It can be deployed on-premises, in the cloud, or in a hybrid environment.
Its super-fast delivery practices significantly boost the application delivery speed.
User-friendly.
Allows you to manage batch services from different devices.
Provides maximum accuracy in most operations.
Control-M has proved to be reliable and flexible in organizing application workflows and delivering quick data-driven outcomes. The tool has a free trial and can be used on-premises, in the cloud, and in hybrid environments.
7. ConnectWise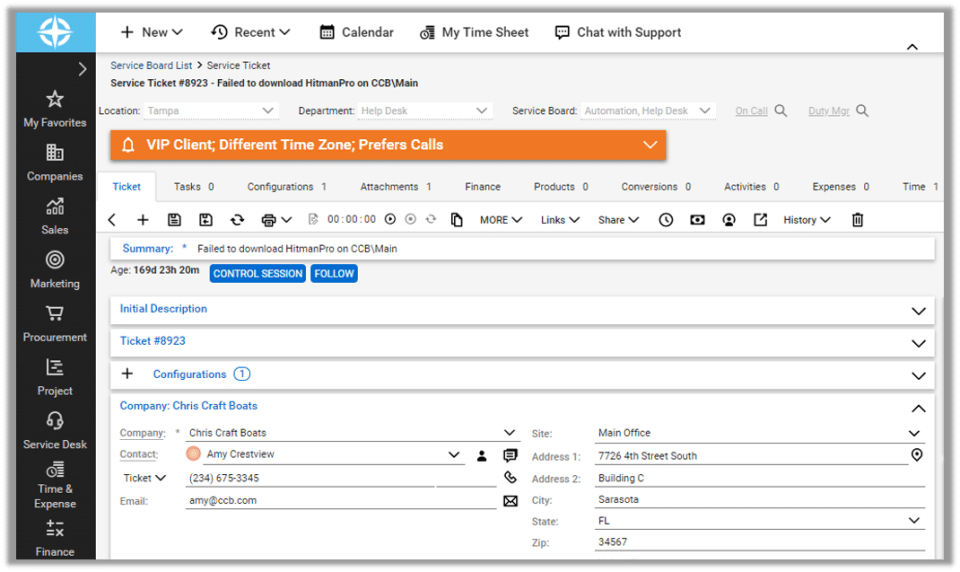 ConnectWise stands out for its ability to effectively handle both complex and simple tasks. Using it minimizes a load of work conducted on the cloud and by on-call technicians or professional IT staff. This creates more time for the professionals to manage critical operations that can boost your company's productivity. It also saves you lots of money since most of the tasks are automatically handled.
The platform enables you to streamline your desktop and server management easily. In addition, it offers fantastic features for workload automation, including automated time entries. Also, its unique solutions give you total control over agentless and agent systems.
ConnectWise offers different functionalities for easy management of multiple devices. Plus, it helps you provide excellent self-service options and maintenance to your end-users.
Key Features:
Provides an RMM solution that lets you control different agent or agentless systems.
Grants you access to endpoint devices without interrupting other running systems.
Handles multiple platforms and performs proactive maintenance.
ConnectWise provides excellence in automating your IT support and manages different departments while tracking their performance. Reach out to the platform for a quote or get a free trial.
8. JAMS Scheduler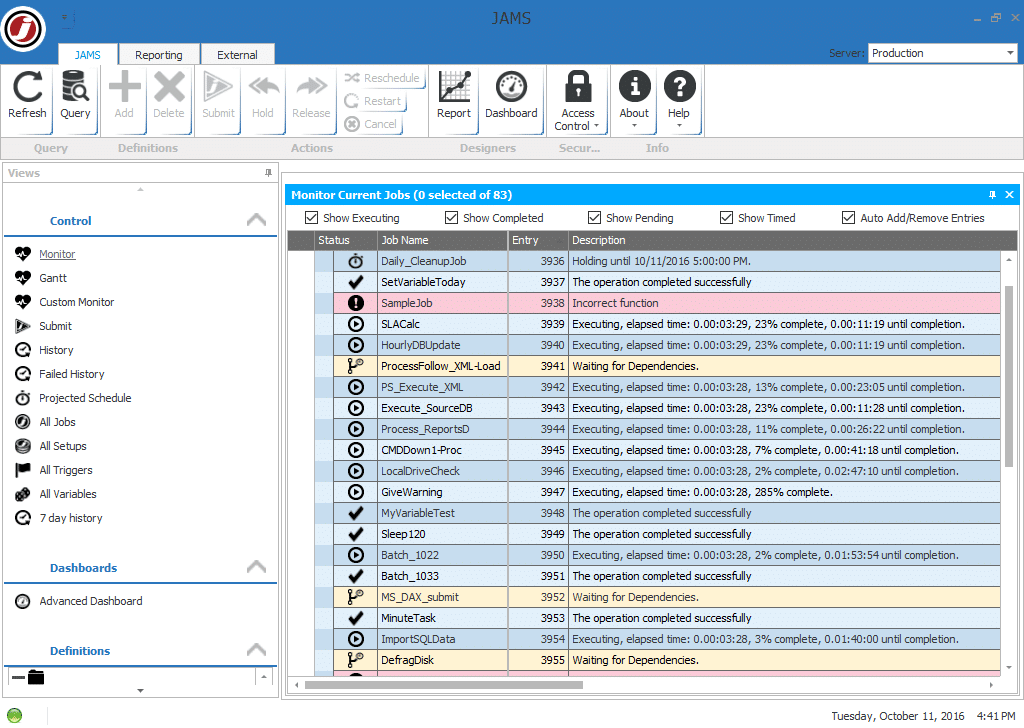 JAMS Scheduler is another popular tool that has shown excellent capabilities in cross-platform scheduling. Therefore, it can be a perfect choice when performing precise batch processes. In addition, you can use JAMS Scheduler to orchestrate, monitor, and log different actions to manage them properly.
Its uniquely powerful features can also help to strengthen your batch processing. You can use it to integrate complicated processes over different platforms and applications. JAMS Scheduler monitors your batch processes and quickly responds when an issue hindering process execution occurs.
Key Features:
Offers cross-platform scheduling options.
Provides dedicated integrations with different SAP applications.
It contains excellent tools for centrally monitoring your batch processes.
Provides alerting features to notify you about any batch job failures immediately.
Performs complete server load balancing to help off-lad tasks that are not urgent.
JAMS Scheduler provides a simple but effective system to run complex IT processes while staying alert for any issues. It supports Windows, Linux, Unix, Open VMS, and other operating systems. You can use it on the cloud or on-premise. Visit the website to get a quote or a 14-day free trial.
9. Ansible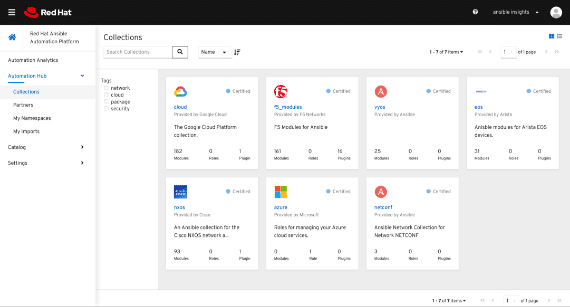 If you have been frustrated by complex batch scheduling tools before, then Ansible is what you need. This simple software offers a user-friendly interface that facilitates agentless IT automation, making it easy to use. It also provides additional IT support for users who get confused by the automation process or anything else.
Key Features:
Solves any problems immediately and shares results with every user.
Offers unique features for job scheduling, automated inventory management, centralized, automated execution, and others as such.
Automates any technologies you use.
Ansible is a combination of Ansible Automation Platform and OpenShift Container Platform. You can comfortably use this batch scheduling platform for any purpose.
It offers a free trial and supports Linux, Windows, and other operating systems.
Conclusion
Batch scheduling tools are a necessity to most companies today, both small and big. However, these tools are many in the market, which can be pretty overwhelming when trying to pick the best fit for your company. Also, every company needs different things from a batch scheduling tool, making it hard to pick a random one. Fortunately, we researched and prepared a detailed list of the best batch scheduling platforms you can trust with your workflows and processes. So, make sure to check them out to see which one will perfectly meet your specific batch scheduling needs.