SolarWinds is an industry leader in Network Performance Monitoring (NPM) and continues to prove so with its wide adoption, active communities and consistent evolution.  New features and valuable enhancements are constantly being adding to their flagship NPM product, enabling customers to gain better visibility into their networks, troubleshoot with efficacy, and forecast infrastructure needs.
GNS3 is the de facto tool for engineers desiring simulated lab environments for studying, testing scenarios or developing configuration files for production environments.  The Graphics Network Simulator (GNS3) runs on Windows, Linux or Mac, giving you the flexibility that other similar tools often fail to deliver.  With it's latest iteration, GNS3 fully supports connected Virtual Machines via Oracle's VirtualBox.  This has opened the door for IT folks to test out virtual applications in their simulated environments.
With SolarWinds running in a virtual environment, you can now connect this to your simulated GNS3 network, providing a highly integrated, fully functioning environment for test-driving the SolarWinds solutions.  SolarWinds has released an epic how-to guide to get you up-and-running with a fully integrated SolarWinds NPM and GNS3 lab.  Cool!
The following reveal the top 5 reasons why you should test-drive SolarWinds NPM on GNS3.
1 – Experience the potential of SolarWinds NPM
Having relied heavily on SolarWinds Network Performance Manager (NPM) as my network management platform at various companies, I can vouch for it's simplicity, efficiency and overall capabilities in the Enterprise realms.  For those new to this platform, and curious how it compares to others, I suggest you take a look at their features, maybe dedicate 15 minutes to watching a few of their videos and get a good feel for how incredibly all-encompassing this particular module within the SolarWinds portfolio can deliver to your network visibility needs.  Some examples:
Multi-vendor network monitoring
The old adage of one-vendor-to-rule-them-all is passing with time as more companies continue to branch out, introducing multiple vendors to the environment.  SolarWinds has a growing list of supported vendors, providing you deep visibility into performance, CPU, memory, interfaces, etc., on both physical and virtual layers in all facets of your environment (network, compute, and so on).
Customizable network topologies
SolarWinds utilizes L2 and L3 discovery protocols to aid in the automatic mapping of your network.  This provides a comprehensive network visualization helping administrators identify and troubleshoot issues with speed and accuracy.  Build your network in GNS3, have SolarWinds NPM map it out, and see how it compares. You'll be surprised how well it builds the map.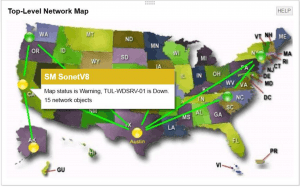 Plan network capacity needs
Drill-down into specific nodes within your environment to view projected capacity utilization data.  I have used this capability with much success to not only forecast needs, but to also prepare for issues on the horizon such as memory leaks or disk saturation.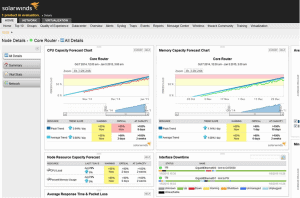 Traffic Analysis
Analyze packet data and calculate network and application response time to determine if end-user quality of experience is impacted by the network or the application.  Introduce changes in your GNS3 network to observe traffic trends in real-time.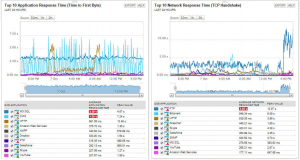 2 – Test SolarWinds latest enhancements
Maybe you've used SolarWinds in the past, or maybe you're a current customer running an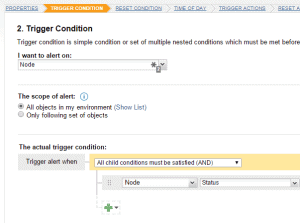 older version.  Either way, running SolarWinds NPM in GNS3 will undoubtedly get your feet wet with integration, setup and operations using the latest code sets available from SolarWinds. Testing some of the key components of network monitoring without actually implementing production changes is a huge benefit for those running sensitive networks.  Amongst other things, SolarWinds has made a few leaps in the general operations of their application suite, focusing much more on web-based feature-set, arming the user with much more control through a single interface.  Being able to create and test customizable alerting via the web interface is just one feature worth playing around with.
3 – Monitor Production-mimicked networks
Quite arguably the best reason to run SolarWinds NPM in GNS3 is to simulate real-world production scenarios without impacting your live production network.  People may joke that "real men test in production", but as you know, it's just a joke,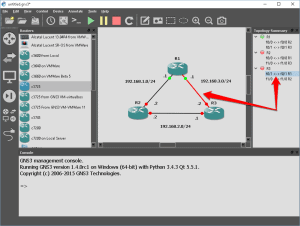 a very bad one that.  The intelligent engineer will build a simulated network very similar to a real-world production network, then implement simulated changes to gauge impact.
Together with GNS3, you can now build very similar topologies and connect your suite of applications to manage them.  What does it look like to manage and monitor your network?  How can you create alerts and reports on your network performance?  The answers to these questions are critical when choosing the appropriate monitoring solution.  Attaching SolarWinds NPM to your simulated network in GNS3 is enlightening for those curious minds, which do not simply trust words written articles.  Nothing beats testing things out for yourself to truly experience the capabilities.
4 – Mobility
You're on the go, moving from home, to work, to coffee shop, and back.  As soon as you get time to start working in the lab, something comes up at work and now it's 5 o'clock and time to go home.  No worries, as the beauty of GNS3 is it's completely mobile.  Load GNS3, VirtualBox and SolarWinds locally on your laptop and bring it with you anywhere you go.  Having the freedom to continue with your studies while on the road liberates you from the cube.  Bring your network with you, and test out SolarWinds NPM from the comfort of your home couch, your boring meeting-room swivel chair, or even your favorite Kyoto coffee & cat cafe.  Embrace mobile virtualization and you're bound for success.
5 – Easy to setup
My hat is off to the fine folks at SolarWinds who've put together a tremendous and easy-to-read guide, detailing the installation and setup of GNS3, Vi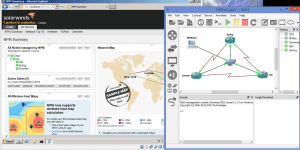 rtualBox and SolarWinds NPM.  The documentation walks you through step-by-step, command-by-command, with pictures and references to ensure you successfully setup GNS3 and SolarWinds NPM with ease.  The guide ultimately walks you through adding GNS3 network devices into NPM for monitoring.  The best thing about the guide is you honestly need to know nothing before starting.  It's very detailed, starts from scratch and holds your hand through the entire procedure.
What's next?
Get your free 30-day trial of SolarWinds NPM, and take control of your network!  SolarWinds NPM is just a single module you can integrate with GNS3. Once you're ready to take it to the next level, try out some other powerful modules such as Network Configuration Manager (NCM) and see what it's like to automate configuration backups, automate configuration changes, and build custom compliance reports to keep your devices standardized.