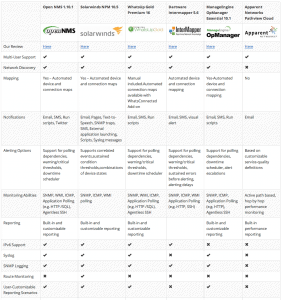 Network management systems range from free, open‐source tools, to complex and pricey applications. Balancing the trade‐offs between price, features, and user preference can be challenging.
To help with this challenge, Networkmanagementsoftware.com conducted a comparative study. Six different solutions were reviewed: Open NMS®, SolarWinds, WhatsUpGold, Dartware, ManageEngine®, and Apparent Networks Pathview Cloud.
Download the Network Management Buyer's Guide to learn more & see how each solution compared.