Most network admins still manage IP addresses the old way – using spreadsheets that are stored on shared drives, and updated if everyone remembers when they should.
The Excel spreadsheet method is rife with hassles: small mistakes compound over time, duplicate IP addresses get assigned, machines are retired and IP space is wasted. It's such an inefficient process, and there is a better way!
IP Management software can reduce administrative overhead significantly. It enables IP address tracking, and integrates with DHCP and DNS to simplify overall network addressing and naming.
Recently SolarWinds released the newest version of their IP Address Manager. It includes new features that bring it closer to being a full DHCP/DNS/IP management product – and they've been telling us how great it is. So the question we wanted to ask was: Does SolarWinds really stack up against the big guys that have dominated the IP management market for years?
We wanted to compare SolarWinds against two of the leading IP address management packages on the market: Bluecat and Infoblox.  Unfortunately, two of our top vendor choices declined to provide us with demo appliances to evaluate. But, we are nothing if not determined, and decided to push ahead anyway. So even though we couldn't get our hands on Bluecat's Proteus IPAM for Windows, or Infoblox Trinzic IPAM for Microsoft, we polled users of the software and pulled together data to give you a side-by-side comparison.
Some basic terminology:
It's hard to talk about IP Address Management (IPAM) without covering the terminology and different types of products on the market.
Most IPAM products manage and monitor DHCP, DNS, and IP Addresses – usually referred to as "DDI."
A mix of different product types exist. Some tool providers, like Infoblox, specialize in full appliances (virtual or physical) that are designed to replace and centralize your existing DHCP and DNS servers – providing a series of integrated tools to enhance management.
Others products like SolarWinds IPAM are designed to integrate with your existing services, providing a single console that simplifies and consolidates DHCP management, while also adding in IP address management databases, IP discovery, and other features.
Both approaches have pros and cons – but more on that later.
Let's start with Solarwinds IPAM: The New Kid on the Block
Solarwinds IP Address Manager (IPAM) is designed to simplify IP Address and DHCP server management of your existing Microsoft implementations.
Some of the key features, include:
Manage IP Address Usage: One of SolarWinds IPAM's strengths is tracking IP address and subnets. Charts show status of subnets at-a-glance, and Top 10 lists identify which subnets and scopes are low on free space.


Role based administrator assignment and AD integration.
Import Wizard: This is a particularly cool feature. The wizard simplifies importing IP data from spreadsheets into the tool. Just configure which columns have which data, and go! It works surprisingly well.
Manage Microsoft DHCP: Manage all of your DHCP servers in one location, including the ability to create or remove scopes and IP reservations.

Monitor Microsoft DNS: Consolidate information from all of your DNS servers into one space.
Integration with other SolarWinds tools, like the Orion suite.
** Support for Monitoring Cisco DHCP and other vendor DNS implementations.
SNMP based server monitoring: Go beyond DHCP/DNS service monitoring, and monitor the entire server's status – CPU, Memory, Disk, etc. SolarWinds long history in the network management space comes through here.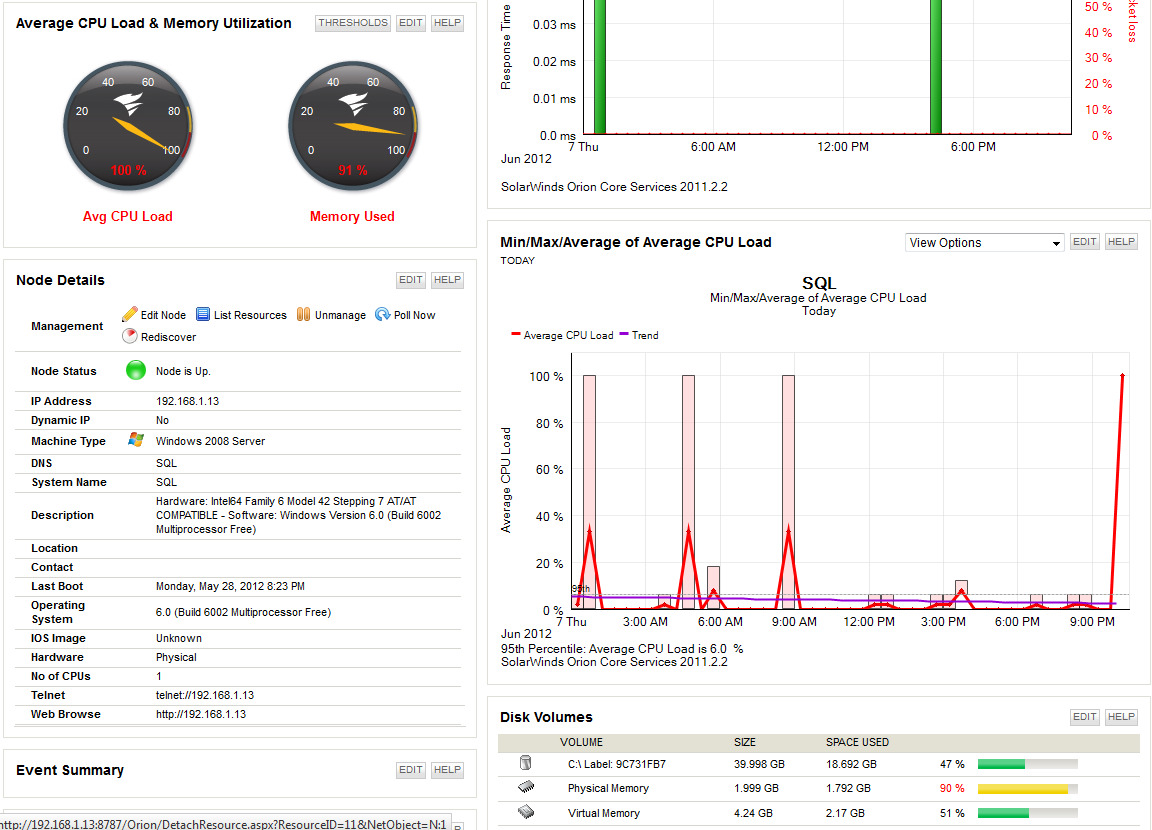 SolarWinds has a simple value proposition: Put away the spreadsheets and instead use a cost-effective tool that integrates with your existing infrastructure. No expensive appliances, and minimal complexity.
Overall, they have hit the target. IPAM worked well in our test-lab. It was able to connect and manage our DHCP servers. The ability to pull together data from multiple DHCP/DNS servers is a big win. The simple UI is well designed, intuitive and clearly laid-out. And, Solarwinds IPAM is priced well below the competition.
We did run into one hiccup while testing out IPAM. The first install of IPAM on a test server was a failure – the web GUI was unusable, with timeout errors when trying to load pages. Searching for the error on SolarWinds' site led to a page that suggested the problem was related to a Windows issue but no fix is known yet. Sure enough, a fresh install of IPAM on a new server worked perfectly. The GUI loaded quickly and all navigation worked exactly as expected. It's an odd bug, but fortunately it's detectable before much effort is put into config, and easy to fix.
SolarWinds IPAM isn't perfect yet, a couple of other items are still on the wish list: SolarWinds IPAM doesn't support Microsoft Split-Scope, though that is on the roadmap for a future version. And, while it can monitor Cisco DHCP, it still can't manage it.
Our opinion: SolarWinds IPAM is a great choice for mid-size organizations that are primarily Microsoft shops, and who want to improve their IP addresses management, as well as centralize DHCP/DNS management & monitoring. SolarWinds was also the only company willing to share their pricing with us – and it's pretty clear why. You can't beat the price – it starts at only $1995 (USD) to manage 1000 addresses.
Infoblox Trinzic IPAM for Microsoft: The Heavyweight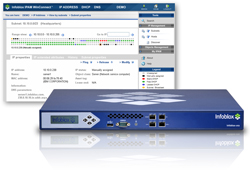 Infoblox provides an entire range of network service management appliances. Their strength lies in purpose-built appliances that replace your entire DHCP/DNS infrastructure and management tools. Infoblox touts the benefits of appliances as being faster, more reliable, and more secure than your existing network services.
However, they also make appliances that provide DDI functions for Microsoft that are comparable with SolarWinds and BlueCat. The Trinzic IPAM for Microsoft is designed to integrate with your existing Microsoft services, and add benefits like:
Centralized management of Microsoft DHCP/DNS servers: administer all of your Microsoft DHCP/DNS services from a single console.
IP use monitoring: identify unauthorized devices and IP conflicts.
Role based access controls: delegate rights to modify specific records, scopes, servers, etc.
Audit logs: track configuration changes easily, and provide a way to identify rollback paths.
Visual reporting on IP space: Infoblox provides some very slick-looking reports that show entire IP subnets or address blocks at a glance. Admins can easily identify which parts of the address block are included in DHCP scopes, which parts are excluded, which IPs have unauthorized devices using them, and more.
Most Trinzic users report that they're pretty happy with the product, that it generally works as designed, and has very few problems. It has potential to really simplify DDI management for Microsoft-centric networks.
On the other hand, Trinzic IPAM for Microsoft adds some complexity with its appliance-style delivery and yet another proprietary box to manage in the rack. A virtual appliance option makes deployment somewhat easier. And, IPAM doesn't have the base server management features that SolarWinds does, like CPU utilization, memory, and disk space monitoring.
Infoblox didn't provide pricing to us, but we have it from reliable sources that Trinzic IPAM for Microsoft starts at around $12,000 (USD) for a virtual appliance.
Our opinion: Infoblox makes a great product! But they lose points for the high pricetag and added complexity of the appliance-only deployment (if you go the dedicated box route).  Their appliances are high quality and are probably best suited for large enterprises who can afford to roll out a full Infoblox DHCP and DNS Infrastructure, along with all the benefits it brings.
BlueCat Proteus IP Address Manager for Windows:

BlueCat Networks is very comparable to Infoblox – they specialize in providing large, Enterprise grade appliances that can manage entire DHCP/DNS systems. But, they also make a stand-alone appliance that can manage Microsoft environments. The Proteus IP Address Manager for Windows can:
Centralize DDI management to a single location, simplifying management of multiple DHCP/DNS servers.
Delegate tasks, role based access control: limit access to specific IP networks, or right down to the IP address level.
Workflows: built-in change management allows junior administrators to create change requests that require approval before being implemented.
Scheduled changes: plan changes ahead of time, and schedule them to be applied during change windows.
IP use monitoring: identify unauthorized devices and IP conflicts.
Network Templates: Simplify the deployment of new networks by using templates that automate default settings like gateway addresses and options.
Compared to SolarWinds and Infoblox, the Proteus IPAM adds some features that will help large enterprises get organized, like change management workflows and the ability to delegate tasks. The ability to schedule changes to occur at a later date is a nice touch.
On the downside, users reported a variety of problems with BlueCat products, ranging from UI oddities, to the steep learning curve, to struggles with limited reporting that can't be customized very well.
Like Infoblox, BlueCat did not want to provide evaluation materials and pricing to us – but we learned that estimated pricing for a Proteus IPAM for Windows installation is around $14,000 (USD) to manage up to 10 Windows servers.
Our opinion: BlueCat's IPAM for Windows is feature packed, but like Infoblox, it carries a high pricetag. It's probably great if you are a large enterprise who plans on rolling out a full BlueCat DHCP/DNS solution, but for most mid-sized business it could be overkill.
Which one is Best?
SolarWinds, Infoblox, and Bluecat all bring different philosophies to the table to accomplish the same job. Their tools are all slightly different, with each boasting features that the others don't have.
But this is how it plays out: Infoblox and Bluecat bring high-end appliances to the table, while SolarWinds has created an excellent software DDI management tool that sells for thousands less.
For mid-sized businesses, SolarWinds comes out clearly ahead based on its mix of features and pricing. It's simple to install, efficient, and cost-effective.
But large Enterprises will likely have a larger mix of technologies in play, and will start to benefit from dedicated DHCP/DNS appliances. For them, Infoblox comes out ahead of BlueCat based on the great feedback they consistently received from the customers and network admins we polled.
We would like to do standalone, in-depth reviews of the Bluecat and Infoblox solutions at some point in the future, but the appliance model means they'll need to supply us with demo units.  In the meantime, if you're running either of these solutions in your shop, drop us a note and let us know what your experience has been on the ground.  We'll update this comparison accordingly.
Have a look at how the products compare in the chart below. This is by no means comprehensive, but it does help to identify some key features, commonalities, and differences between the products.
| | | | |
| --- | --- | --- | --- |
| | SolarWinds IPAM | Infoblox Trinzic IPAM for Microsoft | BlueCat Proteus IPAM |
| Product Type | Software | Appliance | Appliance |
| MS DHCP Management | Yes | Yes | Yes |
| Cisco DHCP Monitoring | Yes | n/a | n/a |
| DNS Monitoring | Yes | Yes | Yes |
| DNS Management | No | Yes | Yes |
| IP Address Management | Yes | Yes | Yes |
| Admin Role Define | Yes | Yes | Yes |
| Alert on low IP space | Yes | n/a | n/a |
| Reporting | Yes | Yes | Yes |
| IPv6 Support | Yes | Yes | Yes |
| Network Discovery/Scanning e.g. ICMP/SNMP | Yes | Yes | Yes |
| Transient IP Marking | Yes | n/a | n/a |
| Historical IP address tracking | Yes | n/a | n/a |
| AD Integration | Yes | Yes, with additional components. | n/a |
| Base Server Management (Monitor OS Stats) | Yes | No | No |
| Change Control Workflows | No | No | Yes |
| Live Demo | Yes | No | No |
| Free Trial Software | Yes – Free Trial Download | Limited IPAM Freeware | Yes (Requires Contacting Sales) |
| Pricing | $1995(USD)/1000 IP Addresses | Estimated starting price $12,000(USD) for virtual appliance* | Estimated starting price $14,000(USD) for virtual appliance,manage 10 servers* |
n/a Indicates this information was unavailable at the time this review was published.
*Pricing data for BlueCat and Infoblox is an estimate, not provided by the manufacturers