What is it?
System Shepherd is primarily geared toward network and system admins, technology executives and application owners who want to "see what the end user sees" when it comes to application and network performance, even simulating the network speeds experienced by users in different locations around the world.
How is it deployed?
The monitoring consoles are cloud-hosted by Absolute Performance.  Monitoring agents are pushed out over the network to the different app servers and devices being measured.  No dedicated admin server is required.  Billing is done on a quarterly basis, much like other cloud services providers.
How is it different from other solutions we've reviewed?
While System Shepherd and its different modules do handle network management tasks and alerting et al., the main value in the Absolute Performance approach is in tracking down proprietary application performance problems, identifying bottlenecks, and optimizing application service delivery.
Introduction
It's a situation many companies find found themselves in: big bucks have been spent on a new proprietary application, but performance problems pop up after the rollout. Users find the application too slow. Or worse, the application crashes and freezes entirely. The help desk is constantly handling calls from end users complaining that they're unable to do their jobs 'when the system is so slow or crashing'.
The application guys blame the network admins; the network admins keep telling the application guys that it's their app that isn't performing.  Around and around the hot potato goes… Is it a network problem? Firewall? Database I/O? CPU? It's impossible to tell without good application performance monitoring tools.
Absolute Performance designed System Shepherd to help sort this out. System Shepherd gives everyone involved the ability to see what the user sees, and move beyond error logs to troubleshoot performance issues.  This particular feature of System Shepherd is called Webwalk.
What is Webwalk?
WebWalk simulates end-user access to your websites using synthetic performance testing. So, for example, you could set up a test that measures response time for different parts of your online store. It can not only report whether or not the site is online, but more importantly, it can tell you which pages are loading quickly or slowly, and if transactions can be completed.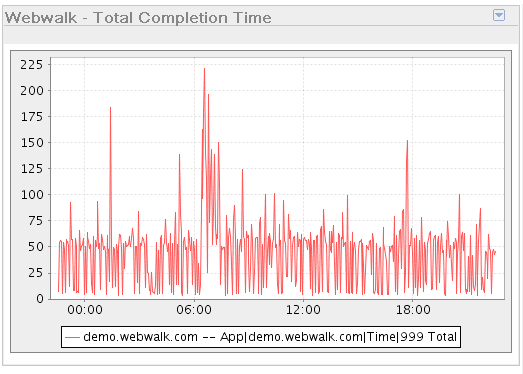 The System Shepherd portal can display charts like the one above, helpful for troubleshooting. It can also alert administrators on all sorts of trouble, like when WebWalk detects that a page loads too slowly; if a server becomes unreachable; on log errors; or almost any other event.
Because System Shepherd runs as a hosted service, there is no hardware to buy, and no monitoring stations to install. Just sign up for an account, load the monitoring agents on your servers, start collecting the data you want, and away you go.
System Shepherd Features
Log in to the web-console, and the first screen you'll see is a dashboard like the one below.
The dashboard is a good place to get a simplified overview of application and host performance. A list of applications and servers is displayed, as well as a system load summary. The system load is calculated different ways for different hosts, but for servers is usually based on CPU, and for network devices it measures overall network utilization. Click on any of the hosts to drill down to a variety of metrics specific to that device – like CPU utilization, memory, disk space and more.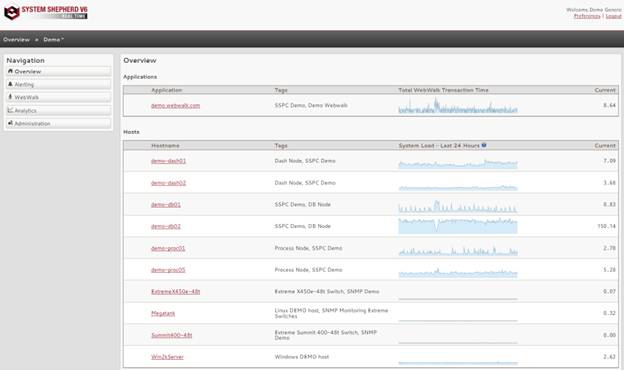 Systems can be monitored using a number of different methods. System Shepherd uses an agent which is installed on your servers to access information directly from the O\S. The agent uses pre-defined templates to collect information by running commands, scripts, parsing through logfiles, and more. SNMP monitoring is supported too, as is custom scripting to extract information that may not be included in a standard template. If the information is there, System Shepherd probably has a way to get it.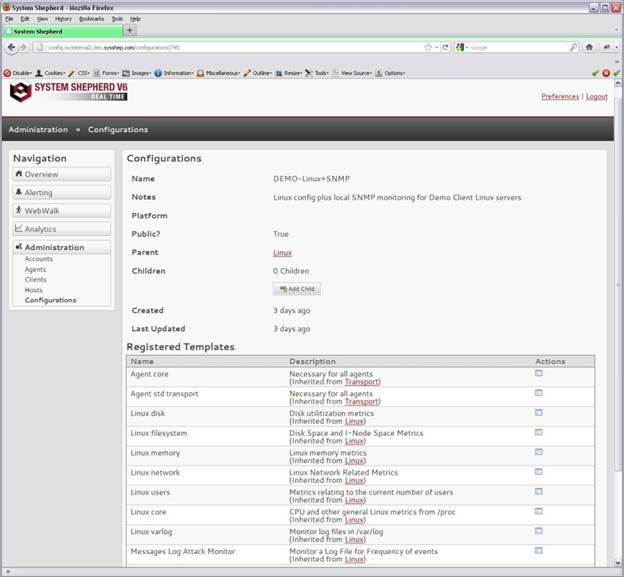 The Analytics section of System Shepherd, seen below, is where the real meat of the system lies. This is a series of customizable tabs that can display any combination of metrics that you need. Need to monitor a distributed app? No problem. Create a tab, and add graphs for your web-server, SQL server, and SAN to instantly see if problems arise. Troubleshooting a specific problem on one device? Create a tab for that, and add the components involved to see if a bottleneck exists.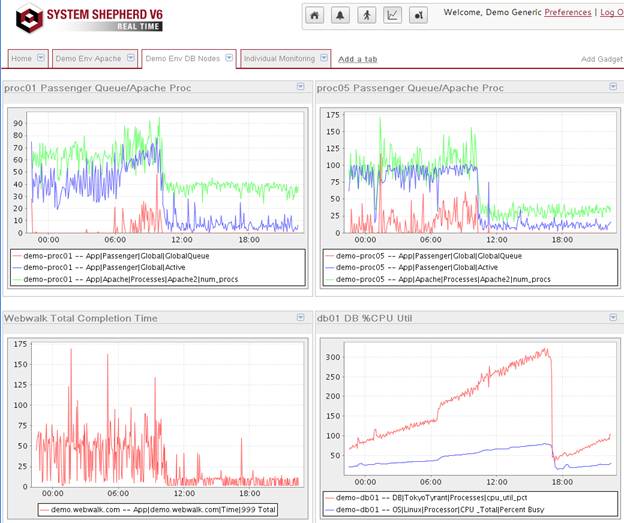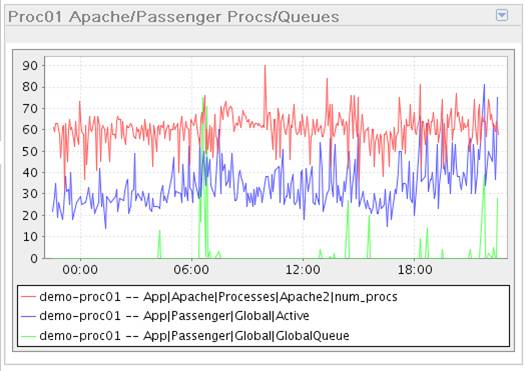 On The Other Hand…
No product is perfect, but we had to look pretty hard to find the flaws with this one.
System Shepherd is very powerful, but also very complex. There is simply a huge amount of data available with this system. That could make initial configuration of the product challenging. Admins should expect to spend time deciding which data they really need. And then, they'll need to spend more time to configure the system, setup templates properly, and display that data in a useful way. But, this is something that needs to be done with any monitoring system, and Absolute Performance provides 24/7 email support to help with any aspect of configuration.
The other downside to System Shepherd is limited reporting capabilities. As you've seen, graphing and charting are strengths for this product, but it doesn't have a reporting module yet. The good news, is that Absolute Performance tells us this is on the roadmap for the very near future. In the meantime, System Shepherd's web-services are standards-compliant, so you could use third-party reporting tools to extract data, or even have a custom dashboard created to meet your needs.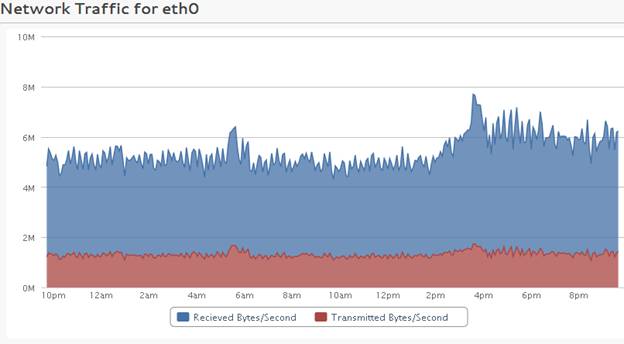 Our Opinion
System Shepherd is a very powerful tool that can meet the needs of nearly everyone. Admins with basic needs will love the dashboards and simple drill-down reports, while complex Enterprises will appreciate the depth of data available to them, and ability to monitor a global infrastructure.
It especially shines for its ability to monitor critical web applications with synthetic transactions that go beyond just ensuring that a web-server is responding. The ability to "walk" through a website and test response time on different parts of the site could be a lifesaver.
Pricing for System Shepherd varies depending on which components are required and how many devices are monitored. In addition, Absolute Performance offers other interesting services that could be bundled with monitoring, including Incident Management services where they can attempt to resolve problems that may have caused an alert.
Absolute Performance also co-authored a recent whitepaper with Microsoft that you should check out if you're looking at managing in-house applications.  The whitepaper is available for download here.
If System Shepherd looks like it could herd your network into order, then we recommend contacting them today for more information, or check it out more closely via the 14-day trial.
Product: Absolute Performance System Shepherd ♦ Review Date: November 30, 2011
Rating: 5/5





Pros:
Great application monitoring features
Cloud-hosted install doesn't require dedicated server installed in the local network environment
Reasonable pricing model
Mobile-compatible interface
Solid pre-built templates for parsing log data and building out reports
Cons:
Complex interface at first
Lack of consolidated reporting module (TBA according to vendor)
Limited dashboard customization capability