Meat and potatoes make for a filling supper, but can be a little boring. Add some spices though, and things get interesting. Salt and pepper, chilli powder, salsa, or your favourite spice can make a boring meal delicious!
What does this have to do with IT? If you find tracking inventory and helpdesk problems tedious, then try adding a dash of Spiceworks to punch things up! Spiceworks is free software that can help you manage your network. It provides a helpdesk ticket tracking system, inventory and change management, alerting, and much more. In short, it takes all those time-consuming manual tasks, and wraps them in a great application that will help to organize your world.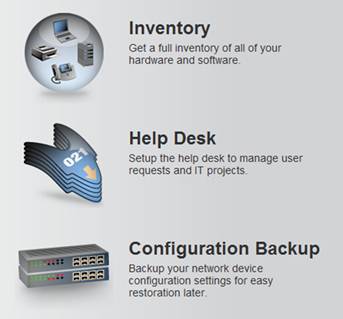 Installation
Once you've downloaded the surprisingly small setup file, installation is simple. The setup process will ask which port you wish to use for the web-server (80 by default, unless a web-server already exists on that machine).
Once you log in to Spiceworks, the first step is to scan your network.  By default, Spiceworks will attempt to scan the local network connected to the Spiceworks server.  But you won't find that information at first – the scanning screen doesn't provide much information about what it will scan. Neither does it provide an opportunity to configure SNMP settings. However, it does allow you to set Windows credentials, as well as Telnet/SSH account information for Unix/Linux management.
Additional scan settings can be configured in the Spiceworks "Settings" menu. For example, you can specify settings for SNMP, multiple login accounts, and which subnets to scan. You can also control how often scans run, and when they kick-off.
Features
Besides being free, Spiceworks has tons of great features.
The first thing you'll see upon login is the customizable Spiceworks dashboard. The dashboard is filled with widgets that can show everything from alerts, to Exchange server queues.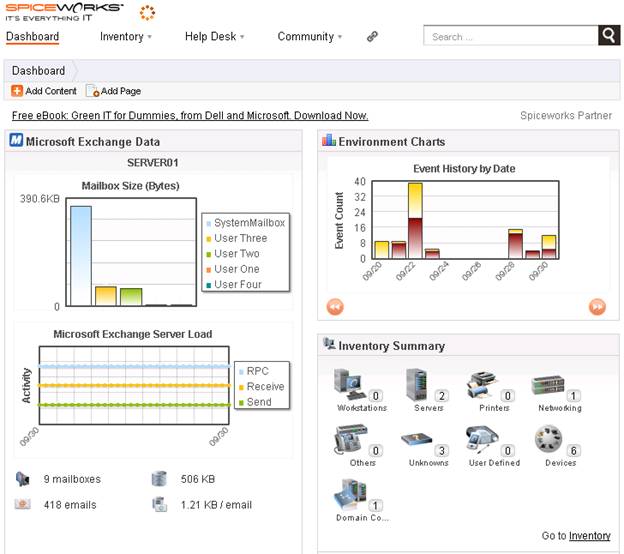 Spiceworks does a particularly great job with Windows servers. It helps to simplify network management by pulling together things like Windows error reporting and Share management into a single console. Or, drill down to individual servers for more detailed information like installed software reports.
It also has added support for virtualization, so whether you're running VMware vSphere/ESX, or MS Hyper-V you're covered. Spiceworks will detect and report on each of your virtual servers, as well as the host machine.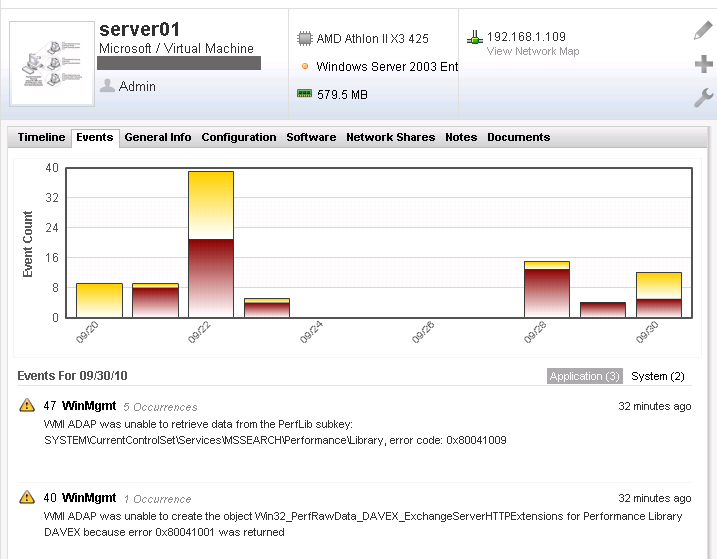 Spiceworks also can help with the task of network mapping. Click on network maps to generate a full map of your network and connected devices.
Unfortunately, I discovered that the network map wasn't always reliable. At times it decided to randomly drop servers and other devices off the map, despite showing online in the inventory.  The mapping features still have a "Beta" label that appears near the bottom, so let's hope that Spiceworks sorts the bugs out of this soon.  This is a great feature that is sure to be a big hit with administrators, especially ones that have multiple subnets to manage.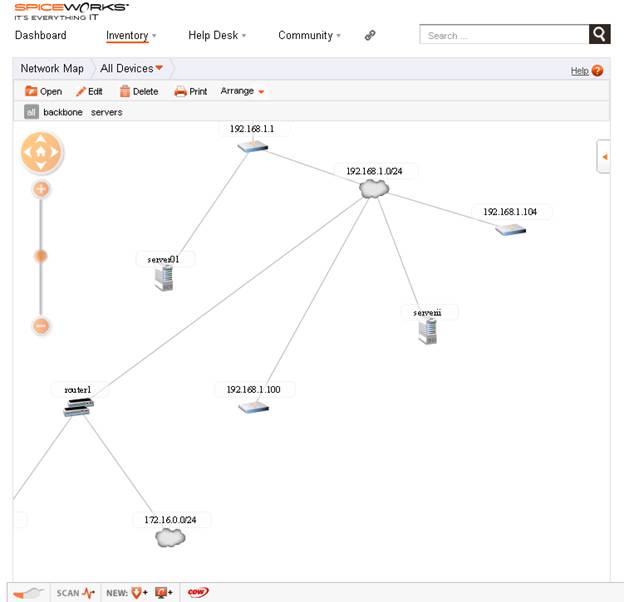 The built-in helpdesk tracking system is a winner – no more messing about with spreadsheets and scraps of paper. When users call in to report problems, just record the details in Spiceworks. You can even relate tickets to individual user accounts, thanks to the new Active Directory integration. Click on the People manager to view all user accounts, contact information, and helpdesk tickets tagged to each user.
A web-based user portal is also part of the system. The portal provides a way for users to get information and submit their own help requests. The portal can contain contact phone numbers, self-help information, links, and outage bulletins.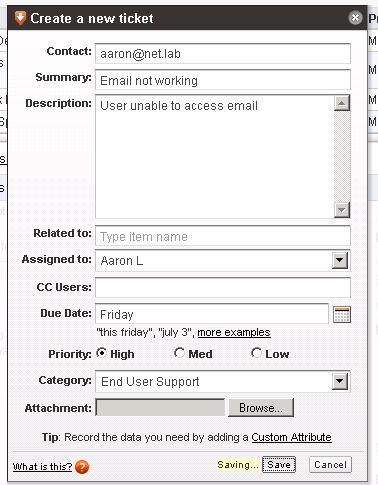 Network devices like switches and routers are supported too. Spiceworks will use SNMP to gather data from your network gear. As an example in the screenshot below, Spiceworks has identified all of the network interfaces on a router and displayed a traffic graph for one of the interfaces. SNMP polling isn't as comprehensive as a dedicated network device manager would be, but it works well for basic needs.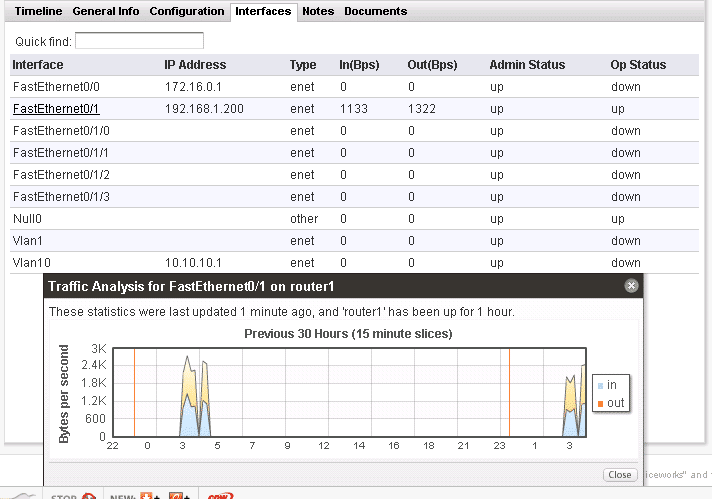 Monitoring and alerting is a key piece of any management system.  By default, a comprehensive list of monitors is enabled. Disk space problems, device outages, and configuration changes are a few examples, and custom monitors can be added too. When problems occur, alerts are generated in the Spiceworks console and can be emailed to administrators.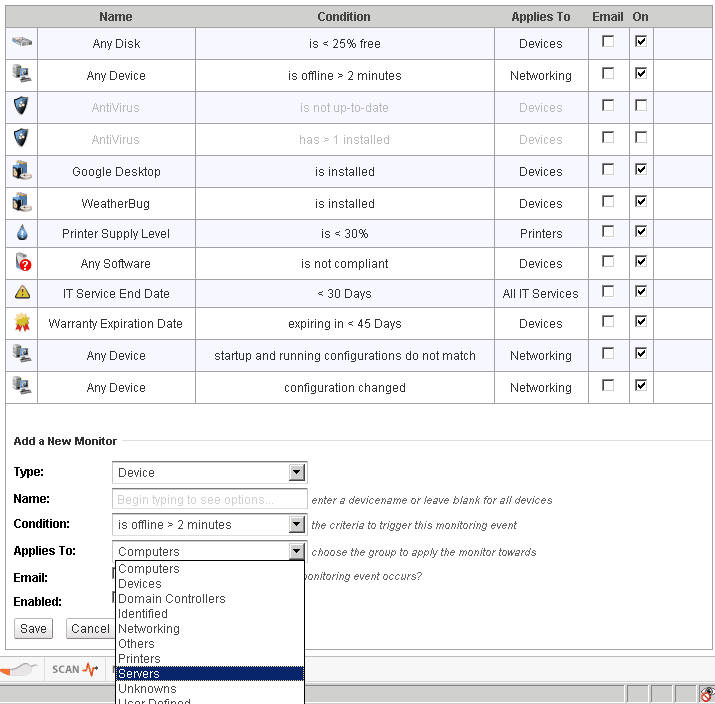 No management system would be complete without good reporting. Reports can be generated for everything from helpdesk ticket statistics, to warranty and inventory information. And, an integrated extension center contains hundreds of additional user-created reports. User generated reports can be downloaded and added to your own Spiceworks installation.
In fact, the Spiceworks community is almost a feature in itself. Spiceworks has a very loyal following that has generated many plugins and scripts, as well as volumes of support information through forum discussions.
On the admin side of things, Spiceworks allows you to assign roles to different users. For instance, you could delegate reporting to another user without giving away administrative privileges.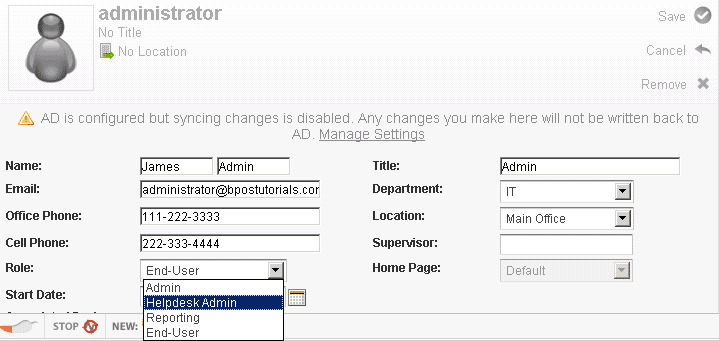 Before we move away from features, a couple of other things stand out, including purchase tracking, warranty information tracking, device configuration monitoring and even printer toner and supply monitoring.
A Few Gripes
As impressive as Spiceworks is, it still has a few drawbacks. For one, it doesn't do a good job at providing information on real-time statistics, like CPU and Memory use on devices. This isn't really a fault, so much as a design issue. The system just isn't designed to be a real-time device monitor. Spiceworks appears to be focused on configuration management and hard-outage notification.
Some users have come to the rescue and created plugins to help with CPU monitoring, but functionality is limited. So, if you have a requirement for real-time monitoring and alerting then you should consider installing a full network-management system in addition to Spiceworks. (Check out our other reviews for lots of examples.)
I also ran into a few issues scanning servers – in one case the very server running Spiceworks. The server would sometimes scan successfully, but then other times it wouldn't. Even after confirming that permissions and WMI were configured properly, it still had intermittent problems.  Judging by the many satisfied users and community posts, this is likely an oddball problem and not something that most users have to grapple with.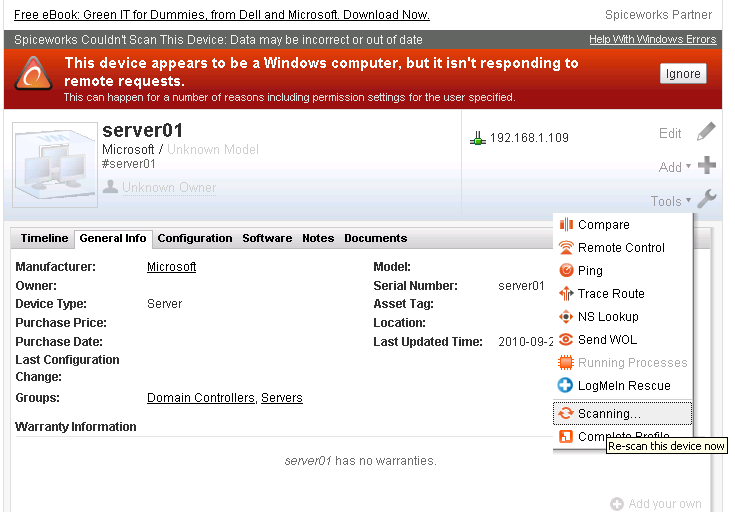 I was also very disappointed by the new network configuration management feature. In theory, you simply supply login and "enable" credentials for your routers, and Spiceworks will backup your network configs automatically. It also will alert you anytime a config changes. However, I could never get this feature to work on the Cisco 1841 in my lab, even after triple-checking the credentials and trying multiple re-scans. I'm confident that this could work with enough troubleshooting and help from the community, but it's unfortunate that this didn't work properly the first time. *see update
[Update: I was able to resolve this problem after this article was published, with help from Spiceworks. (Thanks guys!) As it turns out, this was a configuration error on my part.  The telnet credentials for the router need to be specified in multiple places in order for this to work – once under the account settings, and once under the scan settings. I had only specified the credentials in one of the locations. Once I got it working, it worked very well.

Chalk this up to user error on my part.  That said, I still feel that this is a bit of a problem, since the UI doesn't do much to help the user identify or correct the issue. Spiceworks replies that they may address this in future by adding a form to the screen you see below. The form would allow network credentials to be entered, simplifying the setup.]

And then there's the advertisements. Spiceworks delivers an amazing package, for free! But they have to make revenue somewhere, and they way they do that is with ads. Ads are everywhere. Ads for ebooks,ads for routers, ads for videoconferencing, ads for Blackberrys, ads for printer supplies and more. Is it an acceptable tradeoff to get free software? For most users, the answer will be yes, since the ads are not terribly intrusive.  Of course, if you really hate the advertisements then you can always spring for the ad-free version for $30 USD per month.
Conclusions
Despite these few minor quirks, Spiceworks is still a winner to us. The flaws are few, and the features are plentiful.  Spiceworks takes a large number of boring IT tasks – like inventory and software management – and makes them simple to manage.  The helpdesk system is great, and made better in this new version with Active Directory integration.
It's great to see companies like Spiceworks making a high-quality system like this for IT admins. And amazingly, all of this is free – as long as you don't mind the advertising. We recommend Spiceworks for any IT shop that wants to simplify their network management with a low-cost, easy to use system.
Download the latest version of Spiceworks at http://www.spiceworks.com/signup
Product: Spiceworks 5 ♦ Review Date: November 26, 2010
Rating: 4.5





Pros:
Free
High quality and packed with features
Great community support
Manage devices, users, inventory, helpdesk and more
Cons:
Poor real-time monitoring
Minimal SNMP element monitoring
Ad-supported software
Discovered intermittent scanning glitches during testing