It's time for the networkmanagementsoftware.com smackdown! We've stacked-up six different network management suites against each other, and let them fight it out for the championship. Which one can take-down the competition and win the title of best all-around NMS? Read on to find out.
The Challenge
First some ground rules for the competition.  We've assumed administrators will monitor a small-to-medium sized business.  We also assume that you'll have multiple administrators, and that remote access is a requirement.  Other desirables include features like detailed reporting, notification, and flexible alerting options.
The Contestants
OpenNMS 1.10
OpenNMS is open-source network management software. It's truly an awesome, incredibly flexible package – and did we mention it's free? It can handle virtually any network management task: device management, application performance monitoring, inventory, trouble alerting – it does it all.  Support is available online from the OpenNMS user community, or for a fee from the OpenNMS group – the commercial arm of OpenNMS.
New features in 1.10.9 include:
IPv6 support throughout
Web page and web application monitoring from recorded user scripts, via Selenium integration
New default syslog receiver rules for a handful of commonly encountered applications
XML performance data collection protocols
OpenNMS can do just about anything – but it does take some effort to tame the beast.  Configuration can be complex, and the learning curve can be steep. So, administrator training is highly recommended, and purchasing support through the OpenNMS group isn't a bad idea either.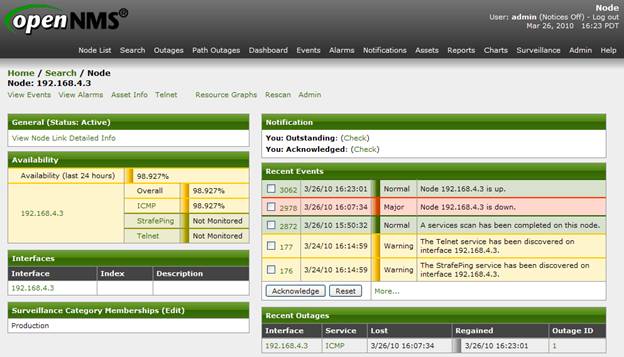 Solarwinds Network Performance Manager 10.4
Solarwinds is a heavyweight in the network-monitoring world, and for good reason. For years, Solarwinds NPM has provided all-round monitoring capability. With the release of  NPM 10.4, Solarwinds has truly stepped up their game. NPM 10 has several new features and many improvements.
NPM 10 can handle basic SNMP monitoring and alerting just like always. New features include VMware monitoring; and ConnectNow, an automated network mapping tool.  ConnectNow appears to be based on the old LanSurveyor tool, but now nicely integrates into NPM.  Improved historical trend reporting is a welcome change. And, a redesigned UI rounds out the list of improvements.
On the other hand, NPM doesn't include application monitoring. And, the Solarwinds pricing structure is based on network "elements" being monitored – like interfaces, CPUs, etc. Depending on the size of your network and monitoring requirements, this can add up quickly.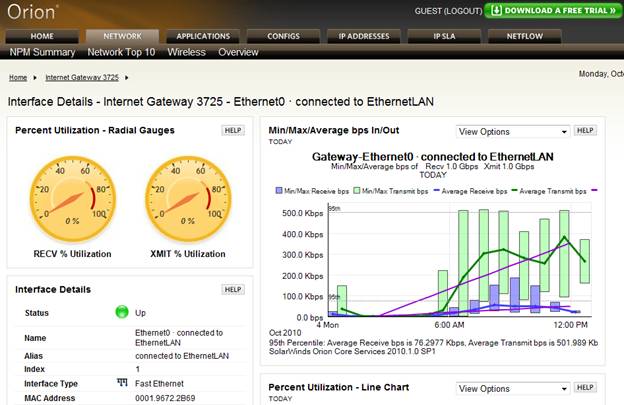 Ipswitch Whatsup Gold Premium 16
Another fierce competitor is Whatsup Gold. Whatsup Gold is a full-featured network management suite. It can monitor devices using SNMP – but adds the ability to monitor application availability using synthetic transactions.
Whatsup Gold also features WMI support for Windows monitoring, and agentless SSH monitoring for Linux/Unix systems – making it ideal for monitoring everything on your network.
A wide range of plugins are available for Whatsup Gold, adding support for everything from VMware and VOIP management to configuration and Flow reporting.
New features in version 16 include:
Wireless infrastructure management for Cisco and Aruba networks
Layer 2 discovery, network mapping and asset tracking tools
New scaling tools for large networks
Updated SQL query and WMI formatted monitors
Expanded Windows services, Active Directory, Exchange support, Powershell/.NET support
We found that Whatsup Gold worked great, though it has some UI oddities that marred its otherwise great performance.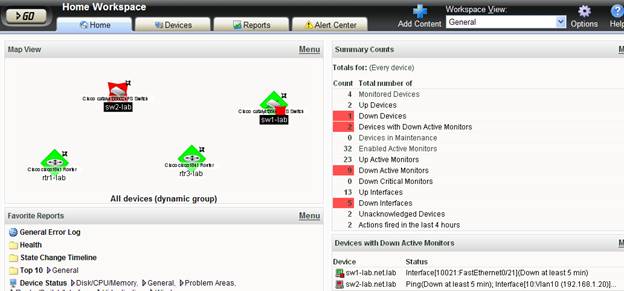 Dartware Intermapper 5.6
Intermapper is a great tool. It's based around the idea that a network map is the most important thing to a network administrator.  Intermapper uses a series of maps to display the status of your network. Like other products, it also does SNMP polling, as well as application monitoring using customized "probes."
A major strength is the way the map includes not just devices, but active status of connections between devices.  Traffic volume between devices is represented with a crawling-ant display, and trouble is easily identified by colored indicators. And, it also supports notifications and logging like other products.
New functionality in version 5.6 includes:
Web server identification: InterMapper can now identify HTTP servers during auto-discovery, and automatically creates probe groups to monitor them
ARP discovery: InterMapper now uses the ARP table to find additional devices during auto-discovery, broadening its view of the network
Multiple UI enhancements
Mobile device-optimized reports
Additional tools to manage how data is exported to the database
New fields in labels, notifiers and status windows
We found that reporting is Intermapper's main weakness (although this is somewhat improved in v. 5.6). While it can provide quality real-time reports, it doesn't automatically store information for all devices on the network. Administrators must manually configure strip-charts to collect data.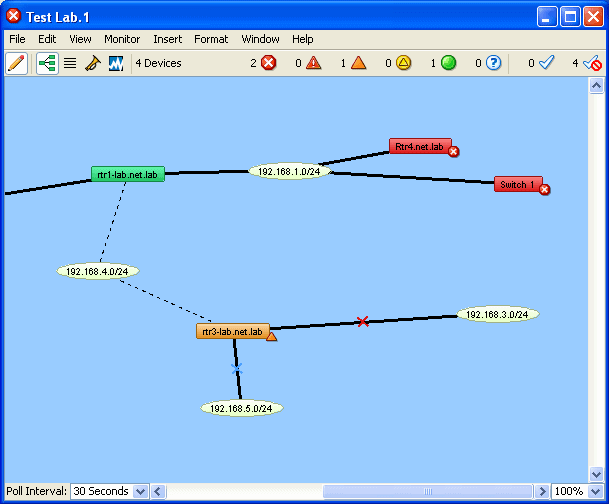 ManageEngine OpManager Essential 10.1
OpManager is another full-featured monitoring system. It can monitor your network using SNMP, and the other usual methods. And, it too can use synthetic transactions to monitor key applications like web and database servers.
Not only is OpManager a solid monitoring system, but it also excels at reporting. It can do it all – whether you need real-time data, historical trends, network health, or SLA reports to name a few.
New features in v. 10.1 include:
3D Datacenter Builder: this helps to virtually create an exact replica of racks and datacenters. You can be embed these datacenter design into NOC screens and monitor them 24×7
Redesigned UI: New API-driven UI, keyboard shortcuts galore and faster page-load performance
Expanded PDU monitoring support: monitor parameters such as PDU Phases, PDU Power/Phase Load, PDU Voltage, PDU Bank Load etc…
Integrated application monitoring plugin options
Alerting options are somewhat limited compared to competitors, and the UI design feels dysfunctional at times. But other than those minor complaints, this is a great product.
Apparent Networks Pathview Cloud
The oddball in this competition is Pathview Cloud. It enters the contest with a disadvantage, since it is not a traditional network management product. It is an end-to-end performance monitoring tool, and it doesn't do things like SNMP monitoring, or synthetic application testing.  But, it's a unique and effective service so we felt it was worthy of inclusion.
Pathview Cloud does a great job of monitoring network paths, whether the path is the route to a server on another subnet, or a WAN-connected office in another city. And, it's the best product in this test for WAN troubleshooting through service-provider clouds. It can identify problems in a path, down to the hop and probable cause of the issue. It can even detect cabling problems.
Unfortunately though, Pathview Cloud falters when stacked up against more traditional tools.  It lost points for those crucial features that it just doesn't have: device variable monitoring, and SNMP reporting & logging, to name a few. We believe that those features are just too critical to ignore, so the end result is that Pathview gets squashed by the heavyweights.
It's still a great product – but we'd recommend it as a supplemental tool, rather than a replacement for your traditional network management software.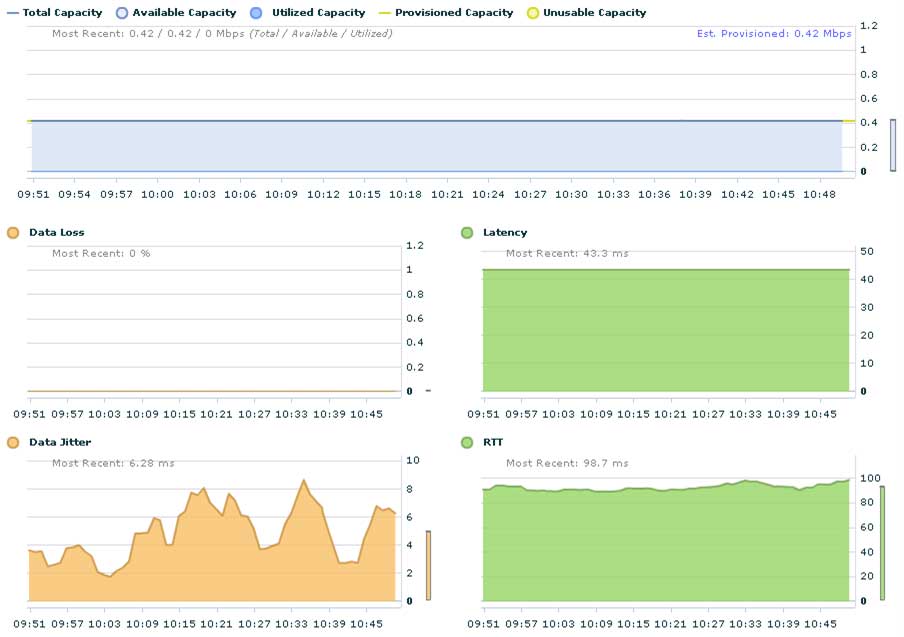 And the winner is…
After testing all the products, this round came down to a very close fight between two tough competitors: Orion NPM, and Whatsup Gold. Both are outstanding monitoring systems, but have different strengths and weaknesses.
Orion NPM has a thoughtfully designed UI – maybe even the best in this group. It handles SNMP and Syslog logging with ease, and includes native support for VMWare. And, it gets top marks for the new ConnectNow dynamic mapping feature. On the other hand, its major weakness is the lack of simple application polling – which requires the Application Performance Monitor module.
Whatsup Gold has better monitoring abilities than NPM, with support for things like WMI and agentless SSH Unix/Linux monitoring. It also has a great reporting module. Pricing for Whatsup Gold may even be a little lower than Solarwinds, thanks to their per-device licensing, as opposed to Solarwinds per-element price model. But, it also lacks several features that are included with NPM, like automated network mapping and VMWare support – both available as add-on features.
But this smackdown needs a champ. And, this round goes to Solarwinds NPM (Download here). In the end, the newly redesigned NPM won us over with the great UI and reporting ablities. We were also impressed by the way ConnectNow made the job of network mapping simple. And finally, VMWare support is a great addition considering how ubiquitous virtualization has become.
Conclusions
It's hard to go wrong with most network management products that are currently on the market, and especially those in this comparison test.  Each of the products we reviewed is a little different. The challenge is to find the one that works best for your needs.
To help you out, we've compiled the comparison guide at the end of this article.  Use this guide to help identify which software has the features you need. Then, try out the free demo versions of the software to see which NMS will work best for you.
OpenNMS 1.10.1
Solarwinds NPM 10.4
Ipswitch WhatsUp Gold Premium 16
Dartware Intermapper 5.6
ManageEngine OpManager Essential 10.1
Apparent Networks Pathview Cloud
Multi-User Support
Yes
Yes
Yes
Yes
Yes
Yes
Network-Discovery
Yes
Yes
Yes
Yes
Yes
No
Mapping
Yes – Automated device and connection maps.
Yes – Automated device and connection maps.
Manual included.Automated connection maps available with WhatsConnected Add-on
Automated device and connection mapping.
Manual device mapping.
No
Notification
Email, SMS, Run scripts, Twitter, etc
Email, SMS, Run scripts, etc
Email, SMS, Run scripts, etc
Email, SMS, visual alert
Email, SMS, Run scripts, etc
Email
Alerting Options
Support for polling dependencies, warning/critical thresholds, downtime scheduler.
Supports correlated events,sustained condition thresholds,combinations of device states.
Support for polling dependencies, warning/critical thresholds, downtime scheduler.
Support for polling dependencies, warning/critical thresholds, sustained errors before alerting, alerting delays.
Support for polling dependencies, downtime scheduler, alert escalations
Based on customizable service-quality definitions.
Monitoring Abilities
SNMP, WMI, ICMP, Application Polling (e.g. HTTP /SQL), Agentless SSH
SNMP polling
SNMP, WMI, ICMP, Application Polling (e.g. HTTP /SQL), Agentless SSH
SNMP, ICMP, WMI Application Polling (e.g. HTTP, SSH)
SNMP, ICMP, Application Polling (e.g. HTTP), Agentless SSH
Active path based, hop by hop performance monitoring.
Reporting
Built-in and customizable reporting.
Built-in and customizable reporting.
Built-in and customizable reporting.
Limited reporting based on any SNMP variable.
Built-in and customizable reporting.
Built-in performance reporting.
Syslog
Yes
Yes
Yes
No
Yes
No
SNMP logging
Yes
Yes
Yes
Yes
Yes
No
Scalable
Yes
Yes – With extra cost components
Yes – With extra cost components
Yes – Supports multiple servers
Yes – With Distributed Editions
Yes, with additional Microappliances.
Virtual Device Support
Available
Native support for VMWare
WhatsVirtual plugin adds native support for VMWare
N/A
Native support for VMWare
N/A
Available Add-on Modules
N/A
NetFlowIP SLA MonitoringIP Address ManagementConfiguration ManagementApplication Performance
Flow MonitorsVOIP MonitorWhatsVirtualConfiguration Manager
RemoteAccessIntermapper Flows
Bandwidth Monitoring (Flow)VOIP MonitoringConfiguration ManagementApplication Management
N/A
Live Demo
(Actual working installations of the software that you can access.)
Yes
Yes
N/A
N/A
Yes
Yes
Download Trial Software
Yes
Yes
Yes
Yes
Yes
Yes
Price
Free Software!Support available for a fee
Starts at $2475 USD for 100 elements (e.g. interfaces)
Starting at $2695 USD for 100 devices
Starting at $2075 USD for 100 devices
Starts at $3495 USD for 100 devices (perpetual license)
$500 USD/year per Microappliance monitors 55 paths