In the last few years the world has seen an explosion in services that are transforming IT, like virtualization, VOIP phones, and cloud computing.  And, networks have become faster and more critical to the success of the business.
That shift raises a challenge for traditional network monitoring.  The focus is moving away from managing servers and workstations that are all on the same LAN.  Traditional device-based monitoring does a great job of reporting statistics for servers and network hardware.  But, traditional tools usually don't do a good job monitoring end-to-end performance – especially when part of the network is delivered as a managed service like MPLS.  After all, who cares if your mail server is up, if network congestion is so bad that your users can't get to it?  And, if that congestion is on your service-provider's core network, how would you ever know?

One solution is PathView Cloud, an innovative performance management tool from Apparent Networks (now called AppNeta). Available since late 2009, it is designed to appeal to small-to-medium enterprise customers.
What Is It?
PathView Cloud is a tool that can monitor end-to-end performance of network paths and connected devices.  For instance, you could monitor a connection to a remote office, and PathView Cloud will alert you anytime that path goes offline. It takes things one step further though, and will generate an alert any time the service quality of a path is in trouble – even if connectivity hasn't been lost.
As the "Cloud" part of the name implies, PathView Cloud is a hosted application.  This makes it dead easy to deploy and run, since all the work of configuring and running database and web servers is done for you.  The key to gathering measurements on your network is a small device called a MicroAppliance.
The MicroAppliance is included as part of the PathView Cloud license and it does the actual work of measuring network performance.  It works by generating a very small stream of traffic, and then it measures how that traffic is returned to determine how well the network is performing.  Perhaps best of all, it can do all of this for parts of the network that you don't even manage yourself – like your site-to-site WAN connections.  The traffic it generates is minuscule and won't cause any network interruptions for users.
The MicroAppliance is shipped pre-configured to grab an IP address on your network and connect back to the PathView Cloud servers.  I'll admit I was sceptical before it arrived. After all, when does anything just "work" without any configuration?  But the MicroAppliance turned out to work as advertized.  I plugged it in to my LAN, and moments later it was available for configuration via the web-console.  Even moving it around to other networks seemed to be no problem. The MicroAppliance worked every time with no additional configuration required.
Configuring paths to test is as simple as entering an IP address or Host name. Once paths are configured, the MicroAppliance will start monitoring the path from the appliance, to the target.
Service Quality Definitions (SQD) can be defined for each path. SQD's identify conditions that will trigger alerts. As an example in the screenshot below, identifying a device as a File Server will cause alerts to trigger if connectivity is lost, or if latency rises above 50ms. There are a number of pre-defined SQD's, or you can create your own.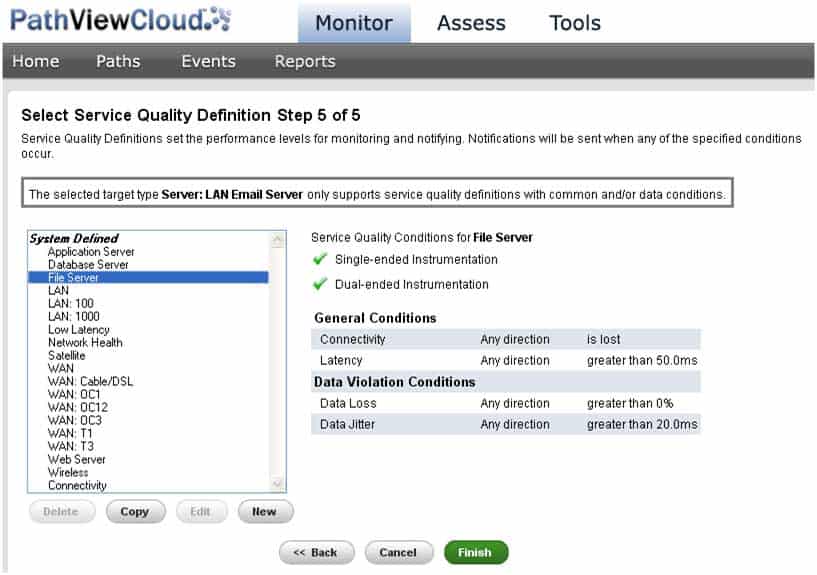 What Does It Do?
PathView Cloud can help manage your network several ways:
Monitoring
PathView Cloud excels at monitoring connectivity.  It maintains a dashboard for each path that displays important information like Available Capacity and Latency, as well as number of hops to destination, and performance per-hop.
It can send alerts by email when it detects a problem, and will automatically run a diagnostic report against the path.  Administrators can log in to the web-based console to check  status and run additional tests if necessary.
Apparent Networks recommends using one MicroAppliance at each of your sites, which enables another feature that traditional monitoring usually lacks: inside-out monitoring, or the ability to test the network from the perspective of your users. Send a MicroAppliance to one of your satellite offices, have a user plug it in, and instantly you can see network performance from a new perspective.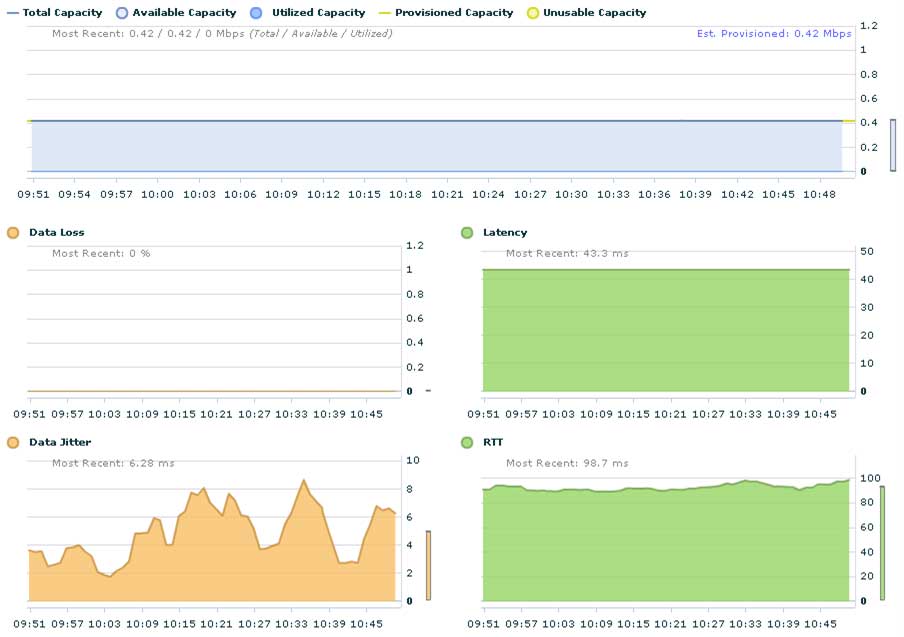 Troubleshooting
Suspect a network problem reaching one of your devices? If it's not something you're already monitoring, then try adding it as a path. Diagnostics are automatically run against new paths, and PathView Cloud will provide recommendations to fix any problems it discovers.
Diagnostics are surprisingly accurate.  PathView Cloud quickly identified problems like duplex mismatches on network devices. It will indicate the percentage of certainty that a particular problem exists – helping you to focus your troubleshooting efforts on the most likely problems first.

Planning
PathView Cloud is the perfect tool for planning a VOIP rollout.  It can perform a voice readiness assessment which will test the network with simulated VOIP calls.  It has options to simulate the number of calls, preferred voice codec, and handset or server manufacturer.  The report provides a measured MOS score, and a dashboard-style readiness report.
There is also an option to run a data assessment test, which is useful for testing new services to ensure they are performing properly.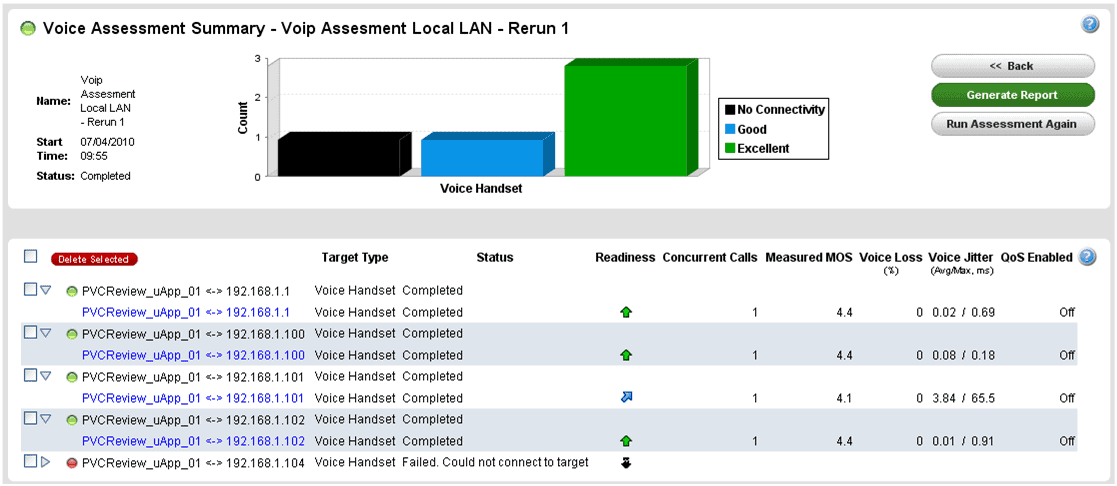 Reporting
The Reporting module is basic, but provides a useful dashboard display of overall service quality, and a detailed breakdown of all service violations. A Top Offenders report also helps to identify problem paths that need attention. Reports can be exported to PDF for easy sharing.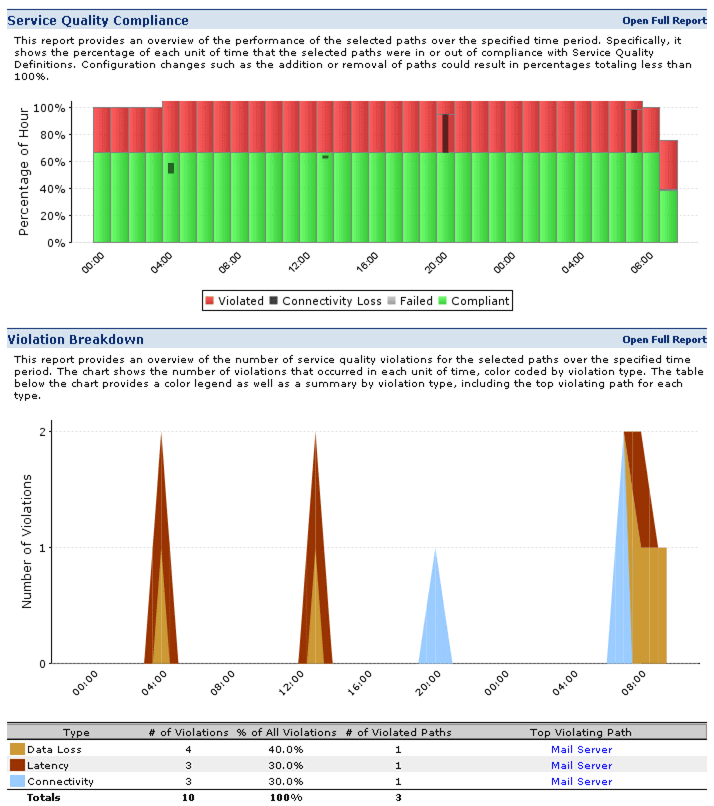 The Verdict
PathView Cloud is a great product, but it does have a few small flaws.  One limitation arises when testing to some types of target endpoints.  For example, testing to a router or switch may not give good results. Busy routers usually drop some ICMP packets, giving priority to normal traffic forwarding .  In those cases PathView Cloud may not report true bandwidth numbers, and could incorrectly identify a packet loss problem.  A solution to this problem is to plan to target endpoints like servers or workstations.
Another problem arises when testing across a WAN. If you have a 10Mb WAN link, PathView Cloud can only analyze 10Mb of traffic – it can't expand back out on the other side to test your 100Mb LAN properly.  This is a limitation of the WAN more than the tool, and one  solution is to install a second MicroAppliance at your remote site.
But, this does highlight that the tools are really only as good as the operator.  PathView Cloud is simple to deploy and operate, but administrators still need a good foundation in troubleshooting networks.  In all cases, an administrator needs to look at the results generated and ask themselves "Is this what I expect?" before assuming that a problem exists.
Another minor gripe is that it's not easy to find the IP address of your MicroAppliance in the web-console.  To find the IP, you have to go through several steps to eventually find it in a diagnostic report.  When asked about this, Apparent Networks told us that they plan to add this feature in a future release.
A small nice-to-have feature would be the ability to temporarily pause monitoring for specific paths. For instance, suppose you were taking a device offline for maintenance and didn't want to receive notifications for that path. You could delete the path, but then you'd lose all your historical data. It would be nice to be able to pause, or ignore paths temporarily without losing all of that information.
Finally, once last thing to keep in mind is that PathView Cloud isn't really a replacement for your traditional monitoring tools.  It can't monitor disk space, it can't receive SNMP logs, and it can't measure HTTP application response time. It's focused on monitoring performance and connectivity. In spite of this, network performance is becoming so critical to business that it's well worth adding this tool to your arsenal.
Despite these few faults, we'd still recommend PathView Cloud. It's easy to configure, easy to use, and very reliable.  It also has a wide range of uses, covering everything from monitoring and troubleshooting, to assessment, planning, and reporting. All of this functionality provides great value for the cost of a license.
Pricing is based on the number of MicroAppliances required.  Service contracts start at $500 (USD) per year and include one free MicroAppliance, access to the hosted PathView Cloud server software, and the ability to monitor 55 paths.
Take PathView Cloud for a test drive with a free 30-day trial.
Product: Apparent Networks PathView Cloud ♦ Review Date: July 7, 2010
Rating: 4.5





Pros:
Good value for money
Agentless monitoring
Intelligent path diagnostics can identify problems that traditional monitoring may not find
Runs as a hosted service, saving on support costs
Cons:
Cannot reliably test some target types e.g. Routers
Is a supplemental monitoring tool, not a replacement
Cannot suspend path monitoring without losing historical data